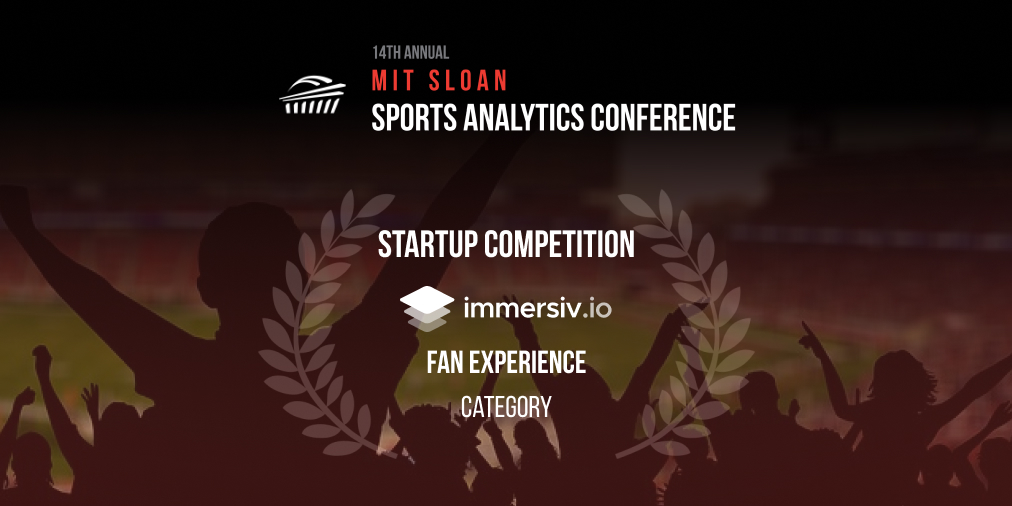 At the beginning of March 2020, Immersiv.io's founders were present at the MIT Sloan Sports Analytics Conference, which took place in Boston. It was a good opportunity for them to present ARISE, and the future of sports innovation with AR to a panel of U.S sports leaders. Our technology has been well received as we've been awarded a prize by the conference's judges.
The SSAC is an annual event that provides a forum for sports professionals (executives and researchers) to discuss the increasing role of analytics in the sports industry. The conference brings together main actors of the U.S sports industry and provides insights about the latest ways entrepreneurs, teams, leagues, and companies are reinventing ways to apply analytics and data to the sports industry.
On this occasion, Immersiv.io has decided to take part in the conference to show new ways to use data and analytics, not for the player's performance but for the fans. The use of analytics to enhance the fan experience and give new ways to watch sports is definitely a huge business opportunity for clubs and leagues, in order to seduce younger fans and get this audience to come back. 
During the conference, there were a lot of discussions about the "fluid fan", and how he/she consumes sports today. Teams and leagues are already convinced that sports fans, especially the younger generations, are looking for multiple screens and immersive experiences, through AR and VR for example. 
Reinventing a Business: The Future of Sports Business, Amy Howe:
"It's not just about the actual game experience, but it's about how you extend that and how you can reimagine that experience for fans." #ReinventingBiz #SSAC20 #RunTheNumbers

— Sloan Sports Conf. (@SloanSportsConf) March 6, 2020
This year, the SSAC Startup Competition presented a Fan Experience Track, another sign that the sports industry is truly looking for innovations for the fans. Immersiv.io took advantage of it and presented its solution, ARISE, that aims at revolutionizing the way we watch sports to a panel of judges (including USTA or NCAA managers).
Immersiv.io has been awarded for the best Fan Experience project, and its solution ARISE has been positively received by U.S sports leaders. Since good news never comes alone, Immersiv.io is currently entering the U.S market by leading some tests with leagues who've shown great interest in its solution.