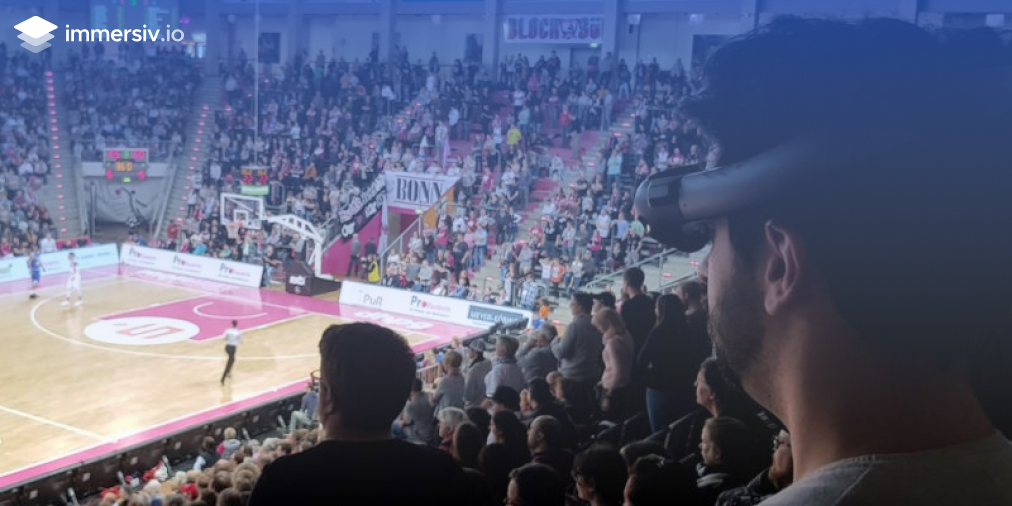 For decades, sports and entertainment industries have relied on enormously popular brands with generations of die-hard & loyal fans. They also have understood a long time ago the importance of atmosphere and excitement to keep fans impressed and engaged. But today, with globalization and the internet, fans have more options than ever and winning the race for their attention has become decisive and complex. To keep fans engaged and continue to create lifelong loyalty and passion for their favorite teams, the sports industry has to embrace innovation in order to rethink its business and create memorable fan experiences.
Technology is now a key, not an option, for the sports industry

Technology is now an integral part of how fans consume sports. Some leagues, such as the NBA or the DFL have understood it and are continuously innovating to keep up with their fan's new habits. The latest Capgemini report "Reimagining the fan experience" presents some staggering numbers about the impact of emerging technologies on fans.
Moreover, when fans have a good experience through technology, it has a positive effect on their overall engagement. Capgemini's report states that 56% of fans who enjoyed their tech-enabled experience said they will go to more matches in the stadium.
A positive experience using technologies also offers significant commercial benefits:  following a good experience, more than 90% of fans have increased their spending on team/brand merchandise and on streaming subscriptions.
As numbers don't lie, the digitalization of sport and fan experience can strengthen engagement, building brand value and driving revenue growth. Presently, technology mostly plays an increasing role in athlete performance, with the use of data analytics to study players' performance and provide coaches with game reports and insights.
However, it's the improvement of the fan experience that offers the most significant opportunity in terms of brand value and growth for the industry. The use of data analytics to give fans new ways to understand and enjoy the game, or to just help them make their betting decisions will completely revolutionize their experience in the coming years.
Meet the "fluid fans", embrace the new generations

With the growth of digital technologies and as the sports industry went global, today's fans are different than before. They interact differently with their favorite brands, consume sports media and content in a shorter amount of time, move from one channel to another and want to be fully involved. In its report "The Fluid Fan is here" the Sports Innovation Lab explains who this fluid fan is and how to engage him.

Fluid fans are:
Open to Change:

More willing than ever to change their minds, and having less attention.

Empowered to Choose:

 Presented with more choices than ever before.

Continuously Evolving:

by discovering new content to love and moving from one form of entertainment to another.
The main characteristic of the fluid fans is that they've become active. They move and change quickly between channels and types of content, they also want to be part of the game and to engage with their favorite teams. Digital technologies have made it easier for sports fans to discover and do more. Knowing these new habits, teams and leagues have to innovate to mobilize their fans and get them involved. Furthermore, as they are omnichannel and completely free to discover new games, sports, and content and to interact by betting, learning or playing, sports professionals have to create interactive experiences to meet their new expectations.
The use of the latest technologies even become a requirement when it comes to younger fans. The younger generations are ultra-connected, they're used to using smart devices extensively, which is also the case when they watch games, whether in the stadium or at home.
74% of fans under 35 consume sports content on smart devices such as smart TVs, laptops, desktops, Ipads… And among 66% of them use the mobile apps of sports entities or third parties and social media platforms to consume sports content. As we can see, younger sports fans consume sports via online digital channels. Sports teams and leagues should adapt their content to this new generation, also known as tech early adopters and already VR/AR users for example.
"Younger fans are looking for multi-screen and interactive experiences. If we're able to provide such experiences in the stadiums, that's something that will drive further, the attendance to the stadium for younger fans.

Emmanuelle Roger - Co-founder & CEO of Immersiv.io

Capgemini - Reimagining the Fan Experience
Younger fans are looking for hyper-personalized and interactive experiences, and therefore, the use of immersive technologies (such as AR and VR) together with user's data will be a way to stand out in the next years to attract them.
Enrich the in-stadium experience

Today, the basic requirements of the fan experience in the stadium (a good game and clean view) remain important but are not sufficient to keep fans engaged, considering the wild competition in the entertainment sector. In order to win fans and keep them coming back, stadiums should create a smooth customer journey and offer outstanding experiences that the fans couldn't find at home.
Some years ago, the fan's satisfaction was based on basic expectations: a safe, comfortable and clean stadium, a good view from his seat, a high-quality game… Today, these attributes remain a necessary prerequisite, but stadiums have to go beyond the basics. An increasing number of fans are using in-stadium technologies in a wide range of areas: getting regular live updates of the match on a mobile app, accessing Wifi to share updates on social media, ordering food and beverages online… There are many ways to improve the in-stadium experience through digital technologies.
Diminish pain points
Emerging technologies can help to address the traditional pain points that come with big sporting events, such as long queues and congested parking. Moreover, stadiums should work on creating an optimal and smooth fan experience, after, during and before the game through technologies. This ranges from delivering parking information in real-time to seamless digital ticketing or food delivery to the seat.
Another main problem for fans nowadays is the lack of connection due to the large number of connections in the same place at the same time. Many stadiums are installing 5G technology to reduce latency and improving the fan experience (see more by reading our article about the future of the fan experience within 5G stadiums). It will be possible for everybody in the stadium to enjoy instant replays & bettings, real-time data and faster connectivity to social media.
Create better interaction through mobile app
The mobile experience in-stadium has started to be developed. It provides an area of opportunities that teams can seize to innovate and offer differentiating experiences, creating thus the basis for encouraging fans to continue coming to the stadium. A mobile app could be a good way to interact with fans during the game, for instance by providing insights or match info, or even by helping them with an interactive map of the stadium… Teams and leagues also have the opportunity to create content to keep their fans entertained during the significant downtime between plays, during timeouts, and between off periods that have always existed and were unused otherwise.
Improve game's understanding with real-time data
The main problem during sports events is the choice that fans have to make between the game atmosphere and the match information. Sports stakeholders have a lot to do in this area. They should be able to provide match data and player's stats in real-time to improve the fan experience, allowing fans not to miss any info, through a mobile app for example. It will promote a better understanding of the game for the newbies and will delight the ultimate fans by creating new ways to analyze the game.
Make the game memorable using AR content before and during the event 
The best way to create memorable in-stadium experiences is by displaying content that fans can't see elsewhere. Many teams already used augmented reality content to bring their mascots to life or share giant player avatars with the lineups directly on the field in augmented reality (see more about AR experiences in sports). It is a way to liven up the pitch before and after the game, but also during the game with the use of AR content on top of the players to enhance and gamify the game. For example, discover ARISE, that places the fan at the heart of his show with an interactive experience.
Extend the game outside the stadium


Over the past few years, the sports streaming market has grown significantly, boosting leagues revenues. Facing the global competition of the entertainment market (with music and cinema streaming platforms, and the growing role of the gaming industry), sports professionals have to innovate to get fans to watch sports when they're in front of their screens (both TV and mobile).
Rely on social media to continuously engage your community
Social media plays a huge role in strengthening bonds between fans and teams. It has become a new way to engage fans with their favorite teams and players every day, and it clearly extends the game outside the stadium, with content, replays and life events shared to avid fans. Social media enables a constant conversation between teams and fans and is also a way to drive people to go to the games more often.
Use immersive technologies to bring home the stadium atmosphere
Emerging technologies give sports teams a unique opportunity to extend the gaming experience outside the stadium, using AR/VR content. More and more fans are using VR headsets during a live match to simulate the in-stadium experience and watch the game from different angles. AR content also allows to gather all the match information around a unique screen and to enrich the TV feed with replays and statistics. It also gives the opportunity to literally bring the players into the fans' home. Read our post about the future of sports broadcasting to get more insights.
As we can see, the sports industry will face an important challenge in the coming years: its digital transformation will change the way we play sports, but also the way we watch sports. Innovation to impress ever more solicited and connected fans will have serious economic and branding impacts and will change the game once and for all!