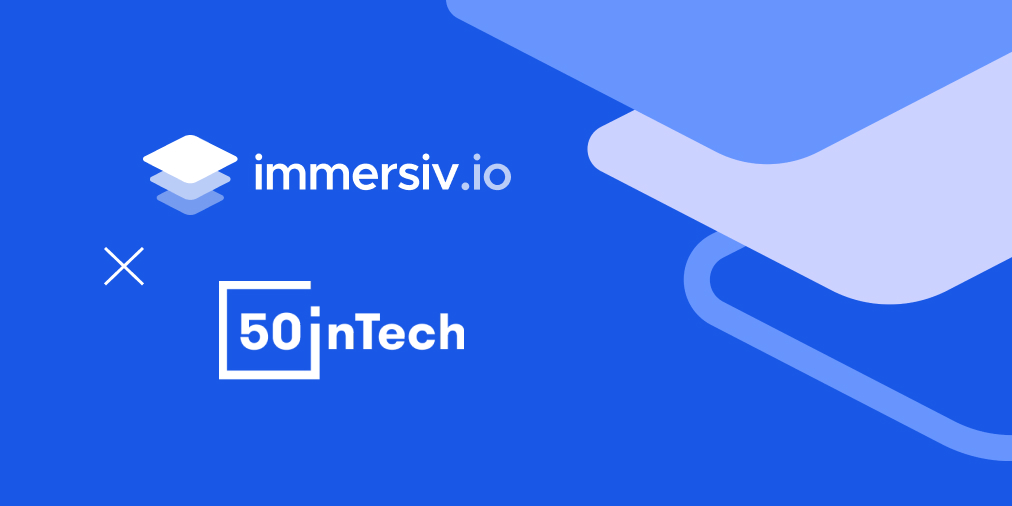 Immersiv.io is glad to announce it's joining 50inTech, the inclusive network which offers women and minorities more opportunities in tech, in order to improve our recruitment process, avoid bias and stereotypes and bring more diversity to the company.
Here's WHY 50inTech

50inTech was founded by Caroline Ramade and Gaëlle Legoff, with the idea that even if half of the population is female, yet today's technology products and services are only getting 20% or less of female input. But technology is becoming more and more important in terms of business opportunities, job pool, and above all, is revolutionizing the entire world. Can we build our future world by putting aside 50% of the population? Nop, that's bad business, everybody must be taken into account to create products and solutions with the least bias and misrepresentation possible.

Women are under-represented and under-funded in the tech industry, numbers speak for themselves:
of startup's founders/co-founders
Nevertheless, studies have shown that start-ups co-founded by women are 63% more successful than all-male teams. In a report published by the International Labour Organisation in 2019, 57.4% of the companies surveyed say that gender diversity improves the company's overall performance and 56.8% say it leads to better talent retention.
Regarding these statements, we've decided to grasp the nettle and join this global movement, by working proactively with 50inTech to bring more diversity at Immersiv.io.
Here's what WE do at Immersiv.io
At Immersiv.io, we're convinced that doing our best to hire diverse talents, with different backgrounds, thoughts and perspectives is the ideal way to get a rich and unique team. Having a company with 80% of white cisgender men is the best way to create a non-inclusive space and lead to stereotypes in the office right down to the products we create. Find out more about the risks inherent to gender disparity.
Moreover, our company is working on the latest innovations available (Augmented Reality, Machine Learning, Computer Vision, 3D/Game Development), and is especially targeting sports industries, which lead us to the crossroads of a lack of diversity.
"As a company working at a crossroads of Tech, Sports and Esports, sectors known to be still largely male-dominated, we are well aware of the need to be proactive in providing job opportunities for women and minorities, as well as in creating an inclusive working environment

Emmanuelle Roger

CEO & Co-Founder of Immersiv.io
That's why we are now involved and committed to building a more diverse and inclusive company, and here are some of our principles:
Writing more inclusive job descriptions,

Training on our bias to avoid recruiting always the same profiles,

Working internally to create a safe and inclusive workspace,

Focusing on skills & personality more than degrees,

Supporting communities like WXR, Willa and now 50inTech!
Visit our 50inTech page to see more and check our job offers.
These last months, our founders have done substantive work to change the way we recruit, looking for more diverse profiles to join our team. We are also currently reviewing the way we describe our job offers when looking for new talents, and the criteria that matter when sourcing and interviewing applicants. The company is also committed to creating a safe and inclusive work environment, where benevolance and helping each other are encouraged, and to preventing any type of discrimination (see more with this guide about what inclusivity means made by Buffer).
We're thrilled to take part in this progress by joining 50inTech, and will do our best to make Tech better.