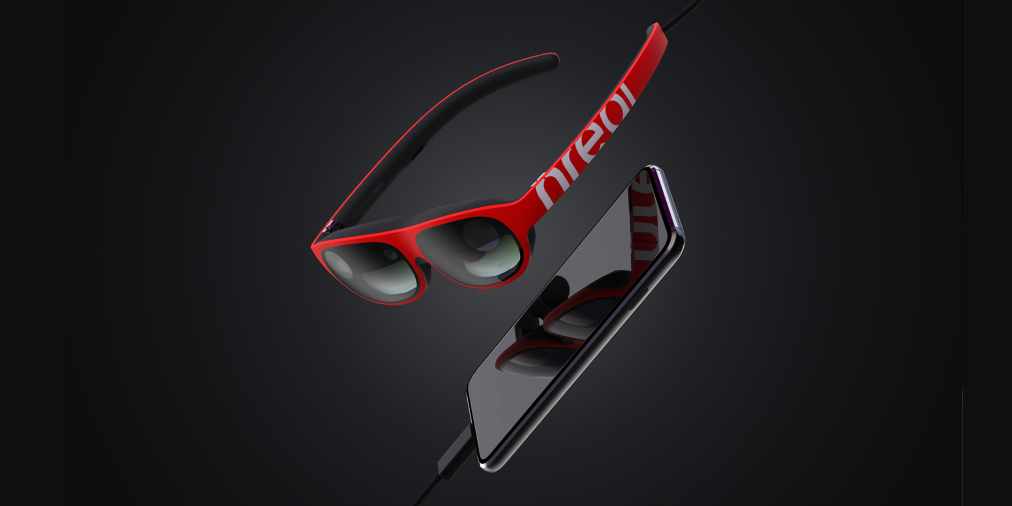 Nreal is a Chinese startup that aims at developing the first consumer augmented reality headset which almost looks like a normal pair of glasses. Cheap and light, these glasses will be for content consumption more than gaming. Most of all, there are very few augmented reality glasses in the market currently, and as our team is developing augmented reality content for the sports industry, we wanted to share a little review of these interesting glasses.
Discover the lightest mixed reality glasses on the market
Nreal glasses are designed to be the closest possible to regular sunglasses, they fit on the face like normal glasses even if they are a little bit bigger, and weigh 88 grams, which is very promising for the future of AR glasses.
It's a pleasant surprise to see that everything can be packed into such light and thin glasses. At least it shows that this is already possible and that we can dream of an even more optimized product in the future.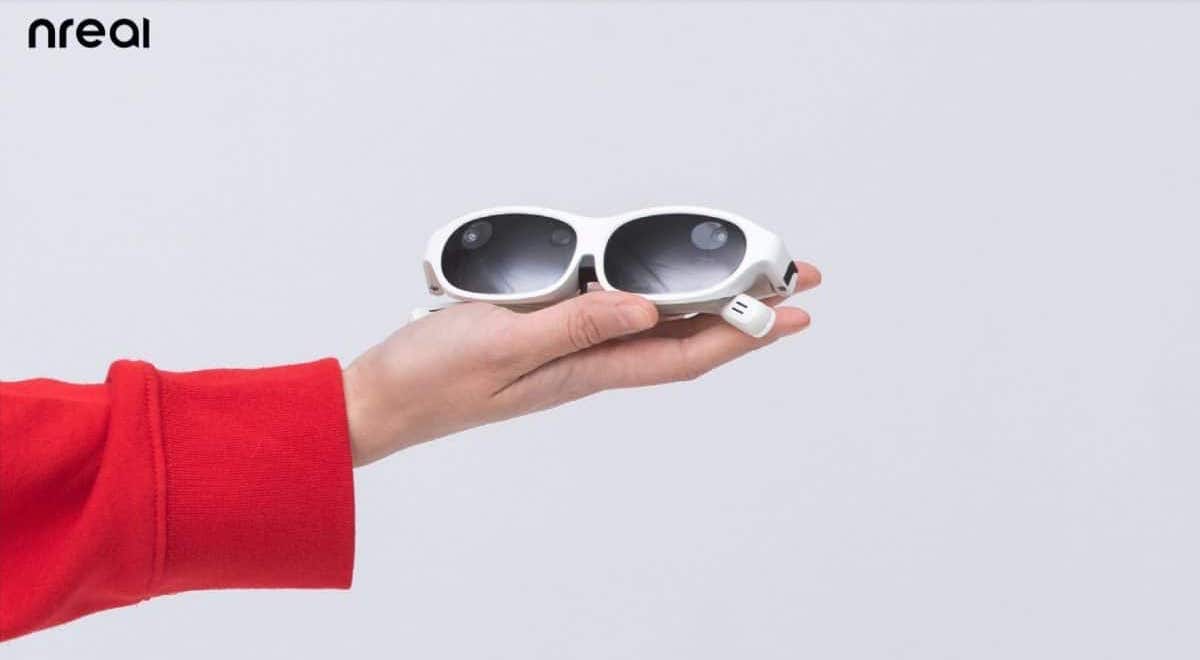 Moreover, even if there are still some issues with the stability and position of the glasses when placed on the face (the frame seems oversized and the vertical field of view needs some improvements), the comfort for the wearer is real:
"The glasses are very light. They don't heat up, or hardly, and you do not hear any buzzing (even though there are electronics right next to the ear), so that you can wear them for a long time without getting a head or nose ache.

Florian

Unity Developer at Immersiv.io
Generally speaking, it's the main advantage of AR compared to VR, since you're are still planted in the real world when you wear glasses, sickness and visual tiredness are less present.
Still, it's a complicated dilemma for eyeglass wearers, Nreal Light glasses don't fit with them so you will have to remove them and use their provided lenses.
An impressive and realistic visual quality for AR content

It's a collective opinion here, the picture quality is truly good. It supports a wide 52-degree field-of-view at 1080p, videos and 3D elements are really sharp as our 3D Art Director, Jerome, underlined. Virtual elements seem more realistic, more colorful and solid, without semi-transparent effect.
"Nothing to add about the quality of the display, it is very sharp, and the FOV is superior to the other glasses on the market.

Thomas

UX/UI Designer at Immersiv.io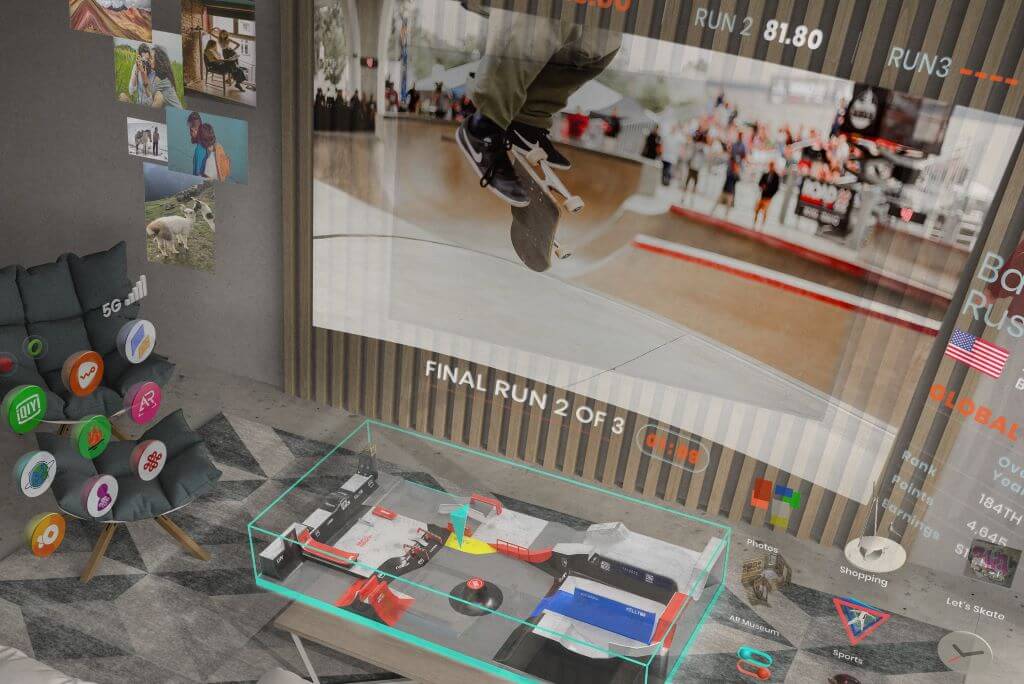 Like with every other AR devices, the lenses are a bit opaque, so that the real world lose luminosity when you put them. However, there are still some blur effects if you move your head fast, and obviously these glasses are made for indoor use. Another area for improvement is the quality of the screenshots taken with the glasses, which is inferior than the current view.
nReal glasses provide 6 DoF tracking and the ability to understand the environment including plane and image detection and tracking. The tracking system is solid, with few tracking loss, and virtual objects remain firmly anchored where they were put, even if the recognition of the real space and elements can be truly improved.
The use of a smartphone as controller: the main advantage

Originally, Nreal glasses worked with a 3DoF circular controller, but you now can connect the headset directly to your phone, which becomes the controller, so that you can use it to point at virtual objects and interact with them on the screen. As the original controller seemed too small and needed improvement (on click's detection, quality of interactions, default positioning), the way of using your phone as a controller is fully complimented by the team.
"I think this is the biggest strength of Nreal Light glasses, it's really a great idea to connect them to a smartphone, and to enjoy the flexibility and the evolutive power of the latest CPU/GPU.

Jerome

3D Art Director at Immersiv.io
The compatibility with Android ecosystem, also a good point for developers

One of the greatest strengths of nReal is that the glasses offer full access to Android's ecosystem and every app can work with the platform, using the Nreal's 3D Nebula system. App like Youtube or Spotify can show up in 2D, you can move different channels around in front of you, and combine them with 3D applications built into Nreal system. Unfortunately, our team didn't have the chance to test the Nebula 3D OS menu, but it seems that Nreal really worked on its UX recently and made it more intuitive (see the test of the nReal light by Virtual Reality Times).
This full compatibility with Android is also interesting on the development side: 
"It's pretty easy to develop on Nreal. It works like on an Android phone: you generate an APK and you can easily retrieve information from the controller and the glasses (rotation, click...).

Florian

Unity Developer at Immersiv.io
It allows developing on the Unity game engine, which is presently one of the most famous development platforms for 3D content. Android compatibility will also reassure many people.
The good match to seduce mainstream consumers?

Contrary to Microsoft's Hololens and more recently to Magic Leap (which have just decided to shift its business to focus on the enterprise market), Nreal decided to completely disrupt the market with the release of its consumer kit for $499 in 2020.
However, only a few developers work on creating applications for this platform, which will be the biggest leverage to help consumers adoption. Our team has unanimously mentioned the need for nReal to have exclusive content and interesting AR apps to seduce a large audience and show the added value of smartglasses over smartphones, which remains a challenge in 2020.
One thing is for sure, the release of these glasses at this price, with good visual quality and the Android compatibility will be an interesting opportunity for the augmented reality market and consumption, and will also push the other stakeholders (presently Apple, Google or Facebook) to speed up their work to take the lead.
Sources: 
This review was written with the help of Immersiv.io's team members!