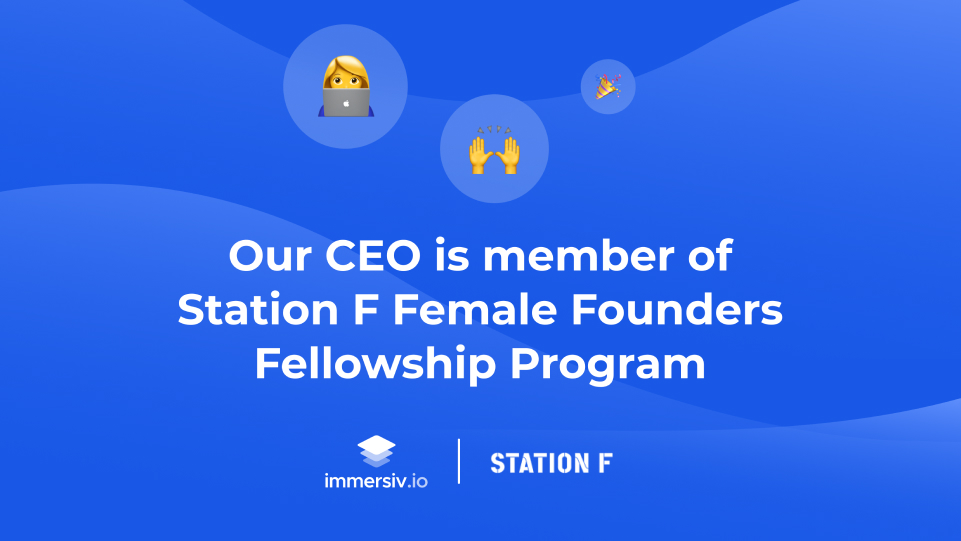 For almost 2 years, Immersiv.io has been a proud member of Station F, the world's largest startup campus. In the meantime, the company has joined 50inTech one year ago to help bring more diversity to our team. As we stated in a recent article about women and minorities in Tech, we truly believe that every startup has a role to play in bringing diversity to Tech. Especially, as a company working in the sports industry, we believe that we have to increase our efforts to encourage women and minorities to join our adventure. We also have some work to do internally to avoid stereotypes when it comes to creating AR experiences for billions of sports fans.
And this statement is relevant in the recruitment process, but also when it comes to entrepreneurship and funding. That's why, when Station F decided to launch its second promotion of the Female Founders Fellowship program, we knew that our CEO would be the perfect match. The Female Founders Fellowship is a program designed to accelerate success for exemplary female founders through dedicated support, workshops and mentoring.
By joining this program, our company is glad to be highlighted with many other beautiful startups founded by women, with such inspiring stories, and to be part of this global change to bring more women into Tech.
More recently, our CEO has also been featured in an article by Paris&Co sharing the journey of 8 French women working in SportsTech. Women entrepreneurs in the sports industry have a lot of challenges to overcome, as inclusivity and accessibility are key issues today to make sports accessible for everyone.