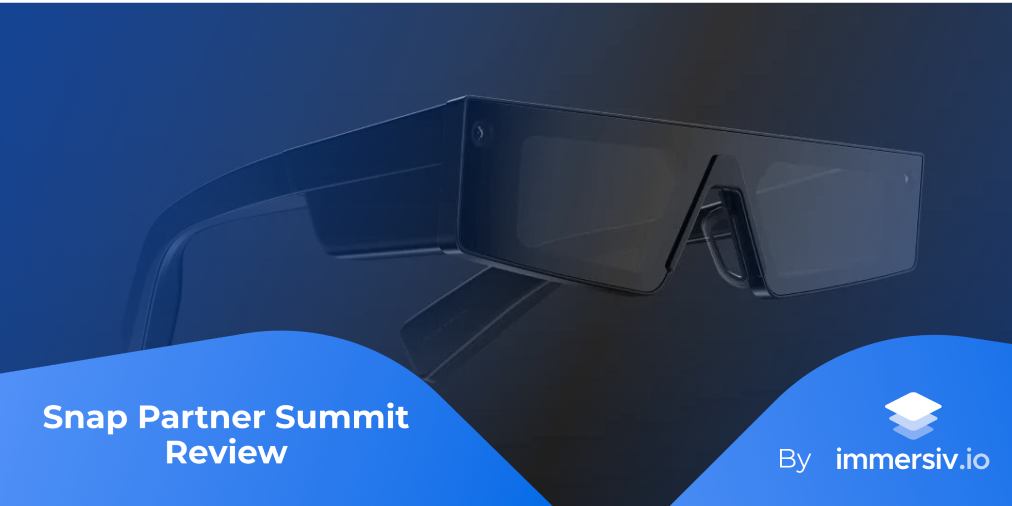 That something we couldn't imagine one year ago, Snap takes the lead in the AR glasses race with a huge announcement during the last Snap Partner Summit last week. During this annual virtual event, Snap revealed the latest products, features, and partnerships around Snap's augmented reality offerings and platforms for creators and developers. Let's take a look!

Snap platform Snapchat is the best example of AR democratization
Snapchat is becoming one of the most successful social media platforms regarding the numbers:
The platform is bringing together AR lenses, short video content as much as mini-games, and instant chat (which was its first core feature at the time). Today, 1 out of every 2 smartphone users in the U.S is on Snapchat, the company is officially betting on augmented reality for consumers in its future developments. Moreover, Snapchat users are opening the app 30 times a day, and the platform is well-appreciated by the 13-24, which announces a bright future for AR tech.
The company has also announced key partnerships, with huge companies like Disney to bring AR lenses at Walt Disney World, Unity for mini-game development, or Youtube.
Connected Lenses: Share your AR experience with your friends
The Connected Lenses now allow users to interact with digital objects and scenes together through AR. The first of these experiences, created through a partnership with Snap and Lego, went live during Snap's presentation. It's a brand new way to use Snapchat's camera, which is becoming social, allowing people to share the same AR experience in real-time.
Introducing Connected Lenses! Using Lens Studio, you can now build Lenses that enable shared state, real-time interaction, and co-located sessions whether friends are across the room or across the world. #SnapPartnerSummit pic.twitter.com/clwHOIAD6L

— Snap AR (@SnapAR) May 20, 2021
Expanding AR Capabilities With Lens Studio 4.0
Lens Studio was already a powerful tool for AR developers. With Lens Studio 4.0, Lens creators also have access to new machine learning capabilities including 3D Body Mesh, Cloth Simulation, and Visual Effect Editor. In addition to recognizing over 500 categories of objects, Snap gives lens creators the ability to import their own custom machine learning models.
At the same time, the "Camera Company" will launch Story Studio, a standalone app with editing tools to help users improve their mobile videos easily and create professional videos without the need for heavy software.
To boost AR development, Snap has also announced Ghost, a new AR innovation lab partnered with Verizon for research into 5G-enabled experiences, with 3.5M in funding for the most innovative projects.
With its new Spectacles, Snap is launching its own AR glasses
It was the huge surprise of the event: the launch of real smart-glasses by Snap. Even if some rumors were on the table these last weeks, we couldn't expect such a finished product! 
Surprisingly, the new Spectacles are standalone. They feature dual-waveguide displays with a 26.3-degree field-of-view, and built-in touchpad control. Users can display AR content indoor or outdoor. Dual cameras allow 6-degrees-of-freedom hand and surface tracking, and a built-in microphone allows for voice commands. Weighing in at 134g, the glasses have a half-hour operating life. Naturally, they come integrated with Snap's cameras and full integration with Lens studio.
Introducing the next generation of Spectacles – our first pair of glasses that bring augmented reality to life. With top AR innovators, we're rethinking the way we communicate, live, and explore the world together. #SnapPartnerSummit pic.twitter.com/2kNJ92IV6N

— Spectacles (@Spectacles) May 20, 2021
The new smart-glasses are not available for the consumer market at this time, they are only being sent as a developer kit to select creators, but there is no doubt that they open up a wide range of possibilities for AR content creation and AR adoption growth.