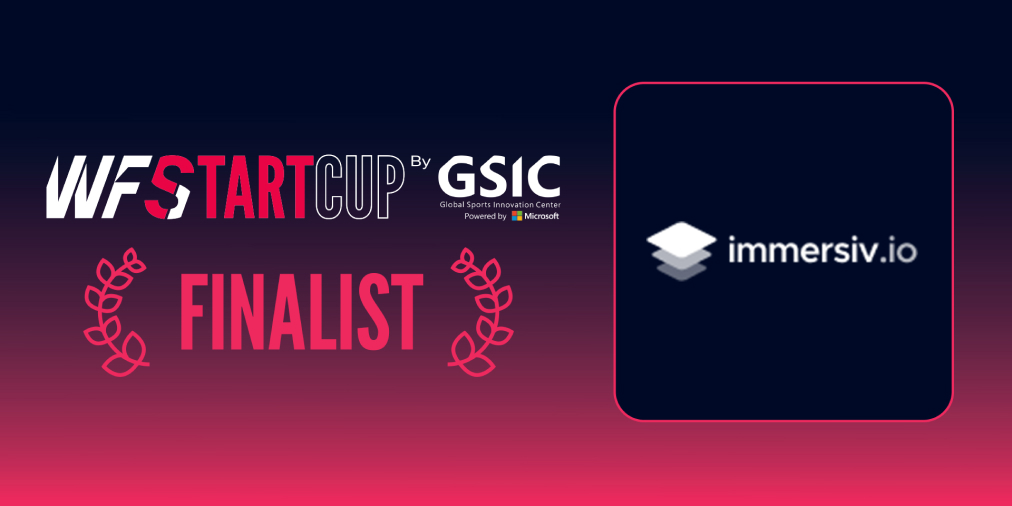 At the beginning of July 2020 the World Football Summit Live was the occasion for sports industry companies, leagues & athletes to meet up in order to discuss football's return following these very particular times. The event, followed online by more than 3 000 attendees, gathered some inspiring conferences pointing the need for innovation & changes in the football industry.
Immersiv.io finalist of the StartCup Competition with ARISE

WFS Live also powered a startup competition to highlight the most promising innovations around stadium venues, players' performance, fan engagement… Immersiv.io had the chance to be pre-selected with 15 other startups to pitch its recent work during the WFS StartCup, powered by Microsoft's Global Sports Innovation Center.
Following this interesting pitch session, we are very glad to announce that our company has been selected among the 8 finalists who will pitch during the next WFS Live event. It is always very rewarding for our team to see that our work is well appreciated and recognized by leaders of the sports industry. This little success comforts us in our commitment to bring the future of the fan experience with augmented reality by working with the most innovative brands. After winning the MIT Sloan Sports Analytics Conference' Startup Competition at the beginning of 2020, we are very glad to be recognized again a few months later.
@ARISE, the AR experience for sports fans presented during WFS Live StartCup competition
Insights from WFS Live: The needs for innovation in football in the "new normal"

While stadiums will remain behind closed doors during months, leagues all over the world are looking for original experiences, more often virtual, in order to enhance the overall experience of fans at home. That's what Arnon De Mello (NBA Latin America) explains during WFS Live: as 99% of NBA fans will not be able to come back in stadiums for a while, the league is looking for new ways to enrich the broadcast, and the current crisis is completely accelerating this movement of creating new types of experiences and more options for fans to experience the game. For example, the NBA is installing cameras in stadiums to provide 360 videos and replays to let fans enjoy the game like never before.
With this crisis, people also seem ready for new types of virtual experiences. Brands have to take this time as an opportunity to do things that before, people were not ready to try before. Media companies also have to reinvent themselves & innovate to engage fans without match content and matchday hype.
Another keyword of sports content consumption appeared frequently during the conferences: We are in a global era of personalization, even more with completely remote events.
"It's about getting premium experience to the fans at home, but they need to feel that they are different, and that they have either special access even one-on-one communication with drivers, special cameras or merchandising…

Alejandro Agag

Extreme E
Sports teams and leagues also have a lot to learn about UGC (User-generated content) and must continue trying to involve fans by offering them possibilities to speak up. 
"We have 20 people on our content team capturing 49ers and other sports every single day. However, we have 10 million fans all over the world capturing 49ers content, so you have to embrace it. User-generated content is just another form of our 49ers Studio team.

Al Guido

49ers
As we can see, it is more and more important for everyone to not just watch games. For teams & leagues, it means engaging their community with more social interactions to continuously discuss with them, even when there are no competitions. And for example, with video analytics & data, it is also possible for fans to analyze the game, with players' relations, distance… And to better understand what happened on the pitch and how athletes perform. It is another way to involve fans with a new approach on the way you enjoy games.
Another main topic of these conferences was the place of women in sports after this crisis, some experts urge the need for strong support of women's football which is even more in difficulty. Something FIFA really takes into account by creating a specific working group to deal with questions about women's football. Some experts also discuss the need for more women in key positions in the sports industry to bring changes & innovative viewpoints.
.@jgarbajosa15 on how investment in women's sport has real value and isn't just a box for companies to tick.

🗣️ "We tend to think of investment in women's sport not as a charity, because it's not. It's a real opportunity." pic.twitter.com/1UywpJg7W7

— World Football Summit (@WFSummit) July 8, 2020
Brands and media have also a huge role to play in highlighting women's football & women athletes by valuating them & offer them a voice. Sportswomen have a lot to bring to the industry with more political voices, as they are also the ones who are advocating the most in the industry (many people will remember the Megan Rapinoe acceptance speech when she won the 2019 FIFA best female player award).
The 2020 global crisis opens new doors for the sports industry and was the occasion for many brands to innovate & find creative solutions. But this digital transformation must continue and everyone in the industry seems, more than ever, ready to listen to find new ways to enjoy sports events