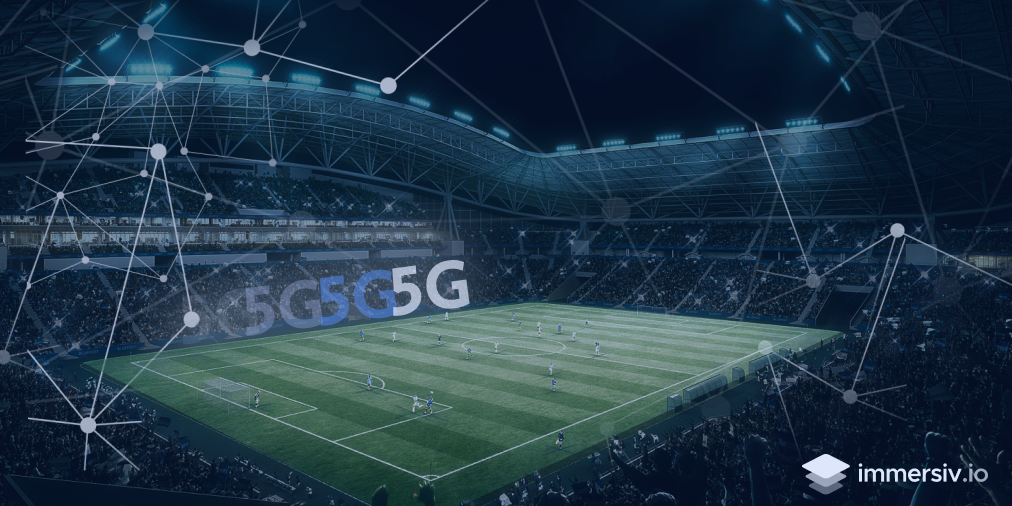 Thanks to ultra-low latency, a higher bandwidth than 4G and new mechanisms such as slicing (allowing to isolate the bandwidth depending on the needs) or edge computing (with computing & data storage close to the devices), 5G technology will lead the sports to a real-time, not just live, era. On one hand, connectivity in-stadium for today's fans, ultra-connected & huge content consumers, has become a huge priority for sports clubs. On the other hand, broadcasting an event will be completely different, undoubtedly easier, with the use of 5G, with new types of content creation in, almost, real-time.

5G in the sports arena: a priority for telecom

If 5G is far from daily replacing 4G, many arenas around the world are already equipped. For example, Vodafone, in partnership with the Bundesliga, is deploying 5G in German football stadiums. In France, the Velodrome of Marseille is also 5G enabled thanks to Orange. In the USA, AT&T is also deploying the technology in NBA & NFL stadiums. More generally, 94% of European mobile network operators plan to provide new 5G services to sports infrastructure operators by the end of 2020.

The main goal? Reducing fan's frustration to not being able to use their device in stadiums during sports events to follow other games, stream the game by themselves or just chatting with their friends while at the stadium. With 5G, the antennas should be able to handle a lot more users. Also the bandwidth available will be far greater, allowing users to receive or send large amounts of data with very low latency.
The Future of the Fan Experience with 5G
With 5G low latency (it's about a few milliseconds latency) and increased bandwidth (allowing more data transfer at the same time), fans will have access enriched content & services on their devices and will become the curators of their own experience (see more about the needs for sports brands to renew the fan experience).
5G will permit to capture and share, almost instantly to fans, high-quality videos, such as 360 videos, 3D or volumetric content or with multi-angles possibilities, all very data-consuming content and usually difficult to load. It will also be possible to share videos from a multitude of cameras in the stadium, integrating live tracking and data sets capturing players and ball movements.
It will also improve interactivity with augmented reality experiences allowing fans to interact with the pitch in real-time to display information around the players.
As sports fans like to feel closer to their community, they also want to be able to share content on social media or chat with their friends even in stadiums. 5G will provide a vast amount of bandwidth that fans require to consume and share whatever content they like.
New Possibilities for Fans to Stream or Collaborate in Stadiums?
As sports fans also like to be empowered by speaking up, they will probably become content creators with 5G's improved connectivity. User-generated content in-stadiums will be a huge opportunity for broadcasters and OTT platforms too.
For example, we can already imagine fans streaming their own experience of the game, with comment and their own viewpoints, and share it on platforms like Twitch. We can go further and imagine fans using AR content on top of the video on their smartphones and providing real-time analysis of the game thanks to AR graphics on the field. 
Sports events will probably be gamified if everyone in the stadium is able to stream, take videos and pictures and share them instantly on social media or with their friends. It will also offer collaboration opportunities between fans in the stadium, with multi-players games and live interactions in the arena.
Fans will also be able to be part of the broadcast productions, offering different viewpoints of the game, from the arena, and brands will have the opportunity to involve them throughout the game. Thanks to 5G, the videos, images and other material produced by them and retrieved live would enrich the TV experience, allowing fans to be actors of every sports event.
5G will offer new ways to broadcast
5G will also change broadcasters' capacities & infrastructures, as 5G removes the need for cameras to use cables, simplifying the covering of sports events in wide areas (such as car race, cycling…). For example, some broadcasters have already relied on 5G to cover golf events, allowing their team to stream more actions & places of the area with cameras that are easier to move.
5G's improved bandwidth & low latency will probably democratize the use of new types of devices, such as smartphones to integrate live videos with high-quality pictures, even on the move while filming. 5G's connectivity will also permit broadcasters to completely move their production outside the stadium, which will completely reduce costs.
In the long run, these arguments open the door for less covered sports or teams to consider opportunities to broadcast their sports events too, with reduced costs and fewer operators needed in situ.
Usecase: AR in 5G Stadium with the DFL, Vodafone & Immersiv.io

Immersiv.io is already used to create AR experiences in 5G enabled stadiums, and 5G's infrastructures are a huge opportunity to improve these types of experiences. Delivering AR content in real-time that is synchronized with the play on the field requires an ultra-low latency connection.

Latency is the key to provide an experience which is acceptable for the user, the data superimposed on the pitch needs to be relevant to what the user actually sees in the real world, as well as in order to allow the users to interact with players on the field through their mobile phone and display data depending on what's happening on the field, like with our solution ARISE.
"Our system needs to transfer data from a server to a smartphone in a few milliseconds, and the lowest we can achieve the better the experience will be for the fans. Also with our machine learning and computer vision algorithms, 5G helps to lower the overall time required to process images.

Stephane Guerin

CTO & Founder at Immersiv.io
Edge computing technology is also improving latency, as it's exponentially reducing the data path and improving latency with data computation close to the stadium.
"With 5G Edge Computing infrastructure we are able to host our server as close as possible to the physical location of the fan, and therefore we can reduce latency to a minimum.

Stephane Guerin

CTO & Founder at Immersiv.io
During the 5G kickoff at the Volkswagen Arena with Vodafone's 5G installation & in partnership with the DFL, our solution demonstrates the future of the fan experience relying on 5G infrastructure.
During the game, the fans, placed anywhere in the stadium, are able to interact with the players directly on the pitch through their mobile phone and display statistics in AR, such as player's speed, passes, and shots. The experience also allows fans to overlay on the field the lineups or each player's analysis of their performance during the season.
The application, mixing AR content and machine learning algorithms, also integrates data collected from 3.5 million positional data points by ChyronHego & Sportec Solutions, & offered to fans in, almost, real-time with a 90ms latency.
5G's technology is obviously paving the way for this type of experience, with data collected, processed and embedded with AR graphics to offer new ways for fans to create their own show by putting them in control of their match experience.