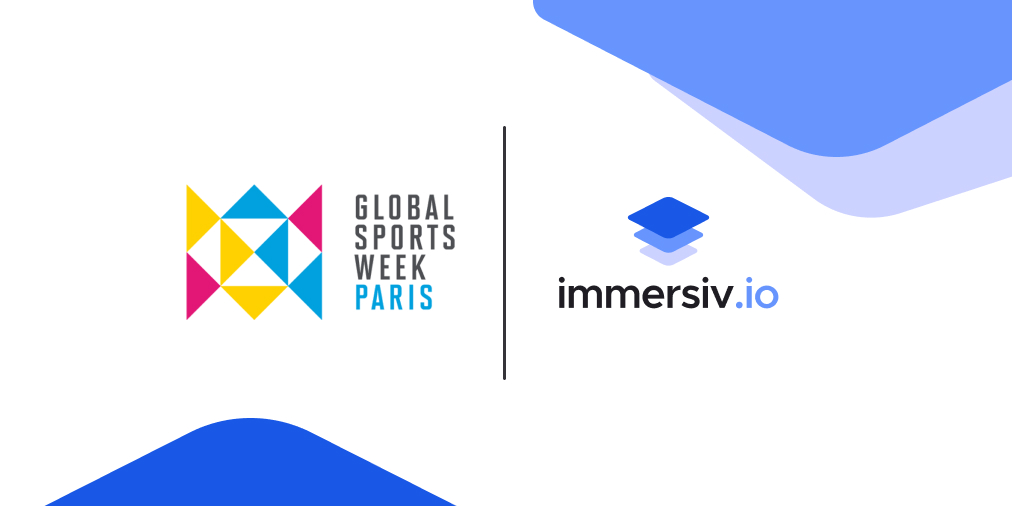 Immersiv.io participated in the Global Sports Week 2021 at the beginning of February. GSW is the biggest forum for the sports world economy in France, gathering sports leagues' leaders, famous athletes, media or institutions all over the world. This year, the event has turned completely virtual, and our startup had the chance to join the virtual Marketplace on behalf of Le Tremplin Sport, the incubator it collaborated with a few years ago and which remains a choice partner.
Discussing the Future of Sport: Connected, Engaged, Equal & Green
The Global Sports Week 2021' tagline was Reinvention in action! The overall purpose of this event in this very special time for sports was to take the opportunity to reset the ecosystem and change the aging models to bring more innovation in sports. In recent months, many changes have been accelerating "thanks to" the crisis (reimagining media platforms, digitalization of clubs & leagues, turning to new sports and the rise of eSports…). The use of technology has become inevitable to help shake the lines of the sports industry & shape the future of sporting events, more digital and with a more positive impact on society.

Sports positive impact is becoming a huge topic, driven by Gen Z, who is politically engaged, and who seeks equality, sharing, interactivity, athlete empowerment & ecology as core values in their favorite sports. Throughout the event, the Young Sports Makers have represented the voice of this younger generation and were an interesting example of how sports stakeholders need to listen to this connected and committed generation in the future.
At Immersiv.io, we're also convinced that technology will create new opportunities for sports brands to engage with their fans, and will help to reimagine interactions & content consumption between brands and audiences. Tech innovation will also be an opportunity to attract the younger fans and impress them with new types of experiences, which is very important in a world where the battle for attention is at the heart of global media consumption.
Just 1 in 4 Gen Z sports fans said watching live events is an important part of being a fan
(source: Morning Consult)
Innovation in Football: driven by the new sports media consumption
During a roundtable discussion gathering the Bundesliga, UEFA & AWS, it was the occasion for the football industry to share interesting perspectives on the future of sports media consumption. No doubt that the fans today, and especially the younger ones, are looking for a completely personalized experience: they are craving for interactive feeds, they want to command the stats & choose videos from different angles as much as staying connected on social media. These options are made possible by using technologies such as augmented reality (see examples of AR experiences in Sports) and tech innovation will improve the user experience over time, in-stadium or at home.
It's a shared opinion that when consuming sports media, each individual would want to focus on his/her own interest and personalization will be a key in the future. Generation X and later are already consuming customized, on-demand content, in a way that they request data & video to come in specific types for specific places. In addition, sports fans consume sports on tablet or phones, the big screen is almost gone, and when it is there, it is used together with a second screen on which they are looking for different interactions. At Immersiv.io, we're convinced that AR will be a key technology to meet these new consumer's expectations in the years to come (see more about our solution for clubs & leagues ARISE). 
Many other interesting subjects have been covered during the Global Sports Week 2021, and the impact of eSport was also discussed, as the convergence of technology and virtual competitions has permitted eSports to clearly integrate the global sports ecosystem recently.