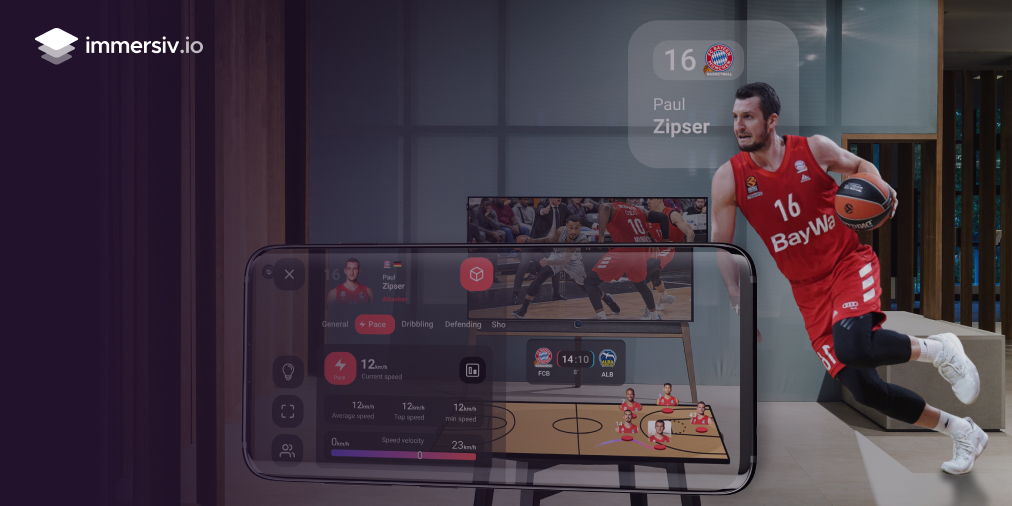 As previously announced this summer, Immersiv.io has joined SAP.iO Foundry Munich's Fall 2020 cohort featuring the most interesting startups working in the field of sports. This special cohort, in partnership with Red Bull & FC Bayern, was the occasion to present the future of sporting events and explore what could be the ultimate experience in the upcoming SAP Garden.
Imagining the future of fan experience during this unprecedented time

Throughout the accelerator program, our team has closely worked and consulted with SAP, Red Bull and FC Bayern teams to improve our solutions, to iterate and test the market's needs, and to create the most extraordinary fan experience during sports events, using immersive technologies.

Regarding the significant shift for sports brands during this unprecedented time, it was also the opportunity for us to imagine the future of the fan experience outside of stadiums, relying on the latest technologies to provide brand-new engagements for supporters who cannot attend the events – which remains quite challenging these days. Throughout this year, we've designed and developed a solution for sports teams and leagues to engage further every fan remotely, using augmented reality content to create an immersive digital experience for spectators at home.
ARISE home: Bring back home the stadium experience with augmented reality

With ARISE home, teams and leagues are able to bring back the stadium experience into the fan's living room. ARISE home enables fans to enjoy a truly interactive experience, by getting all match information and statistics they need in real-time to better analyze the game. Everything is accessible by taking their smartphone and display AR content directly in front of their eyes.

This provides an intuitive way to let people enjoy the game with an AR platform gathering live tracking and stats, 3D replays of match events and social interactions to collectively react to every main action of the game. It allows fans to sense how other fans react and get the feeling that they are immersed in a virtual crowd as if they were in the arena. The ultimate way to immerse and engage fans further is by letting players appear at real scale in their living room to celebrate a goal, extending the in-stadium atmosphere to every fan.
Thanks to the collaboration with FC Bayern Basketball and SAP.iO, we've been able to iterate and work on the first version of this AR experience at home on smartphones, which was showcased during the Foundry Munich Demo Day on the 2nd of December 2020. Later on, ARISE will be tested by a limited panel of users.
This experience is first made for mobile, as most AR experiences are accessible on smartphones these days, thanks to devices having more and more capabilities for displaying AR content.
And this is only the first step. Presumably, the future of the fan experience at home will be on glasses, and we're excited to already explore AR glasses capacities by working on Nreal, HoloLens and Magic Leap AR headsets. Soon, sports fans will be able to get as much information as they want, directly in front of their eyes and enjoy a hands-free experience that completely immerses them into the live stadium atmosphere, just by using their smartglasses.