ARISE Home: How Sports Teams can Engage Fans Remotely using Augmented Reality & Live Statistics
24/06/2020
ARISE Home: How Sports Teams can Engage Fans Remotely using Augmented Reality & Live Statistics
24/06/2020
Today's sports fans are deeply connected and in search of brand-new experiences to feel closer to their favorite teams and players (read more about today's fan and how sports professionals should reimagine the fan experience). Through digital innovation, people want to be fully involved during sports events. They are looking for a personalized and gamified experience, with new possibilities to learn by accessing live information and smart sets of statistics. Fans are also social and crave for continuous interactions with their community in addition to a direct conversation with their favorite teams.
See some Key Numbers about Today's Sports Fans
Views personalization and live information as key to better understand the game¹.
Craves for 'deeper immersion' in live games to feel closer to the action².
Uses a 2nd screen in live to stay connected with his community on social media³.
Rely on Augmented Reality content to Personalize & Enhance the Fan Experience
These evolutions encourage sports professionals to reinvent the relationship with their fans and create original content to empower them during sports events, even more in these times when closed-door events became the new normal. Augmented reality experiences constitute an opportunity knocks regarding the need for fans to be fully immersed and involved during sports events (check our definition of augmented reality to better understand it).
As AR allows every user to display chosen content and interact freely with it, it will be interesting to see how every fan enjoys the game differently, by focusing on player's statistics, displaying replays from different angles, following social media reactions… Everyone will be able to create their own experience, using an interactive second screen platform.
ARISE stadium with the Telekom Baskets Bonn & Deutsche Telekom
These last years, Immersiv.io has imagined the future of the fan experience in stadiums and worked with major leagues such as the Bundesliga and sports events such as the Champions League or Roland Garros. We've created a brand-new interactive solution mixing augmented reality content and live data to offer fans new ways to personalize their experience during sports events.
ARISE stadium with the Bundesliga & Vodafone
ARISE: Bring Home the Stadium Experience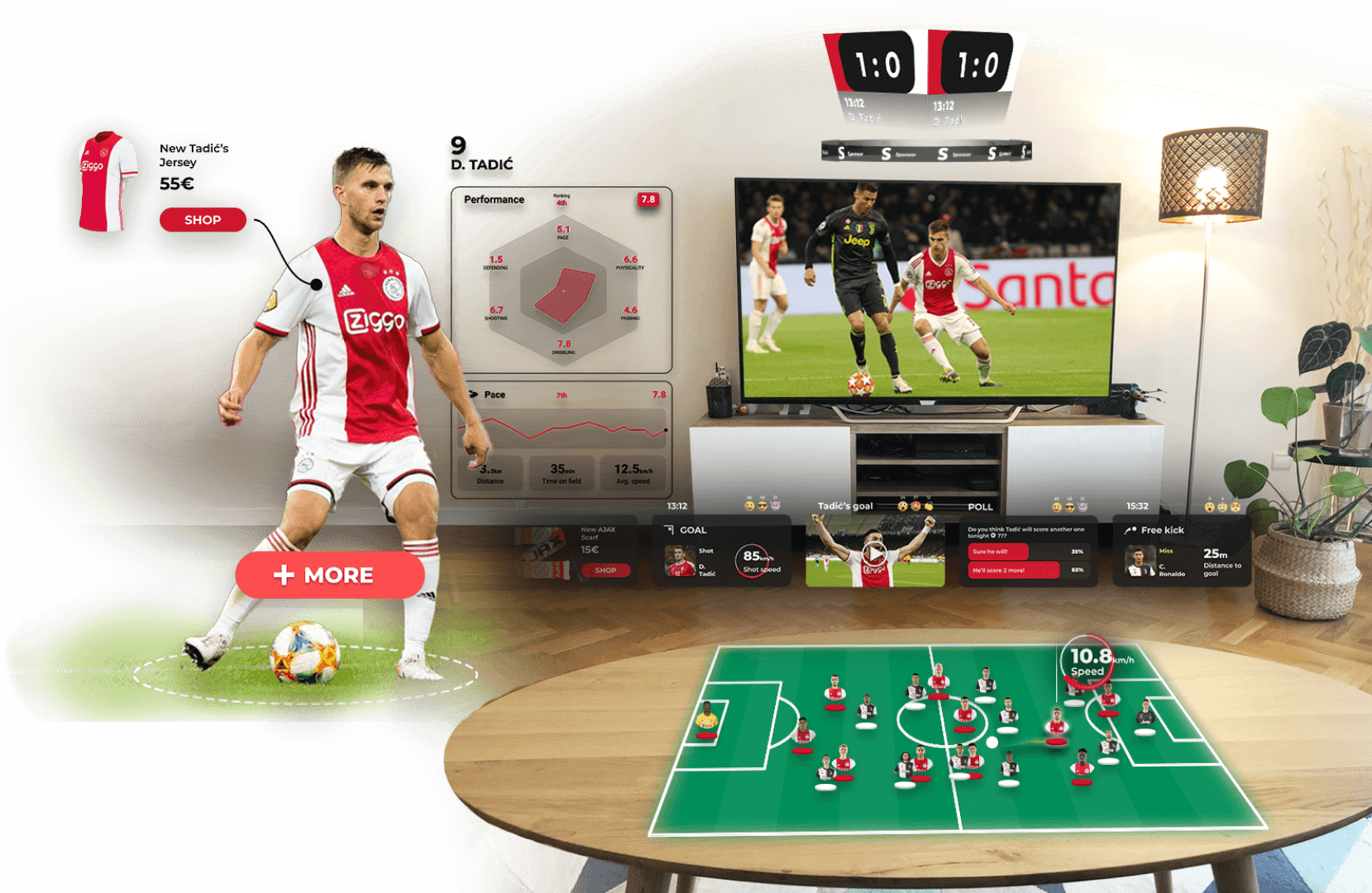 Over the last weeks, our company has understood and explored the importance of creating a strong long-distance relationship between teams and fans during these particular times. With the help of emerging technologies, especially through AR, the company has decided to launch a new solution to bring home the stadium experience for every fan during remote events.
It was the occasion for us to dig deeper into the use of the latest smartglasses to create an immersive experience at home, (with the future launch of the Nreal for consumers and following the different rumors around Apple glasses). We have also explored the future of broadcast, as AR will permit us to extend the screen with personalized content, adapted to every sort of fan.
With ARISE at home, teams and leagues will have the opportunity to engage fans remotely and enriched the fan experience by immersing every fan at the heart of HIS sports show. It will also be a way for teams to reinvent the interactions with fans by offering them an all-in-one second screen experience in front of their TV.
No doubt that sports professionals must embrace technology to meet new consumer's expectations. For that reason, working on the future of entertainment by creating original content for smartglasses, which will be a huge trend in the next few years, remains a smart move.
A Personalized & Interactive Experience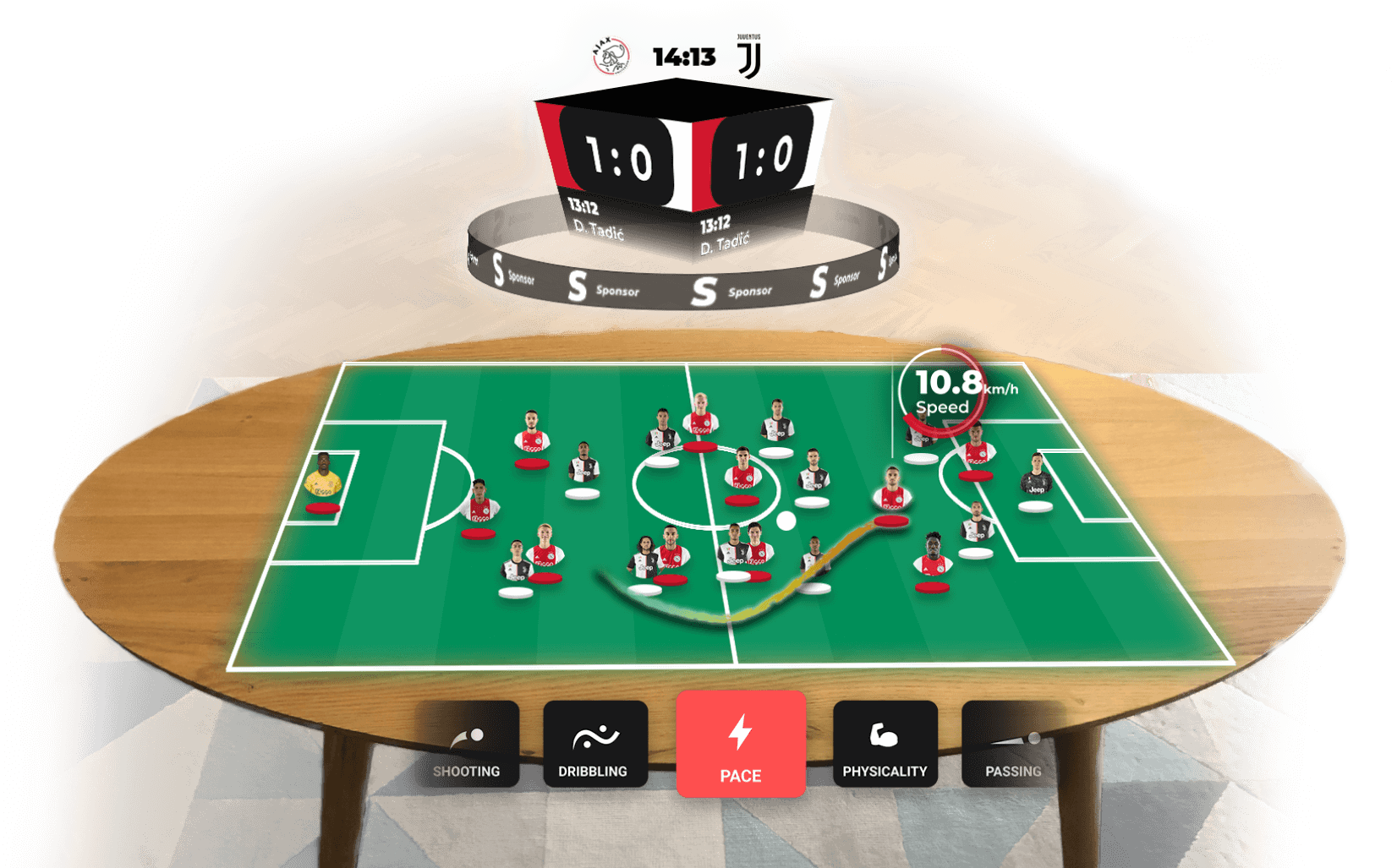 Through a 3D mini-pitch and an animated scoreboard placed on the tabletop, every fan can keep an eye on the live game and interact with the pitch to display live statistics and analyze player's performance throughout the game. As our platform integrates live-tracking solutions, every user will have access to real-time data such as player's heatmap, attack/defense lines, goal & passes, and rankings to see who is performing well during the game. Fans can also get closer to their favorite players by making them appears in their living rooms in AR, with real-size 3D avatars and 360 videos.
An All-In-One Channel to Engage Fans communities Remotely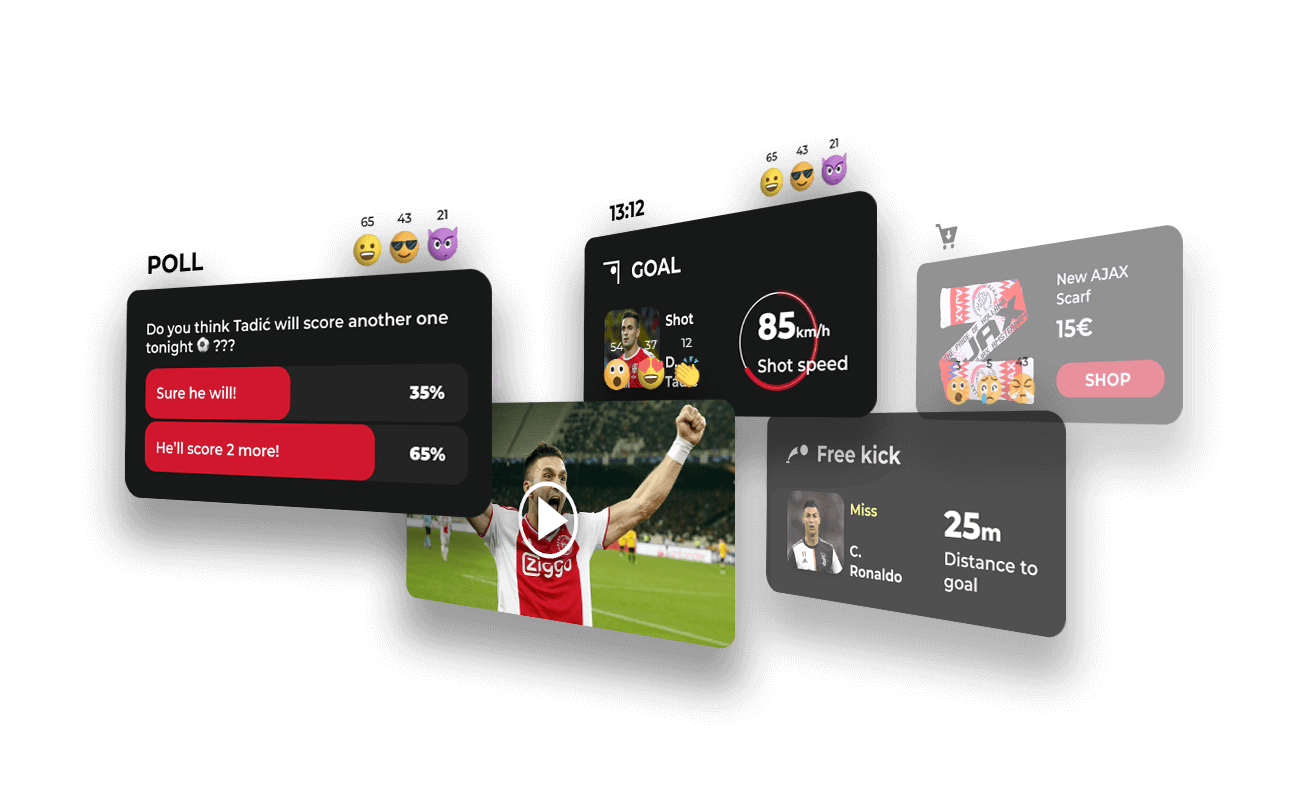 With the timeline, fans have access to an all-in-one interactive and informative channel evolving throughout the game, with every match event, video replays and social interactions. It offers the ultimate live view on the main actions of the game, and also permits teams to share editorial content and then discuss with their fans (through polls, quiz, match information, curated social media content). It allows every fan to react and interact within the team community even remotely.
Drive Revenue Opportunities through Sponsorships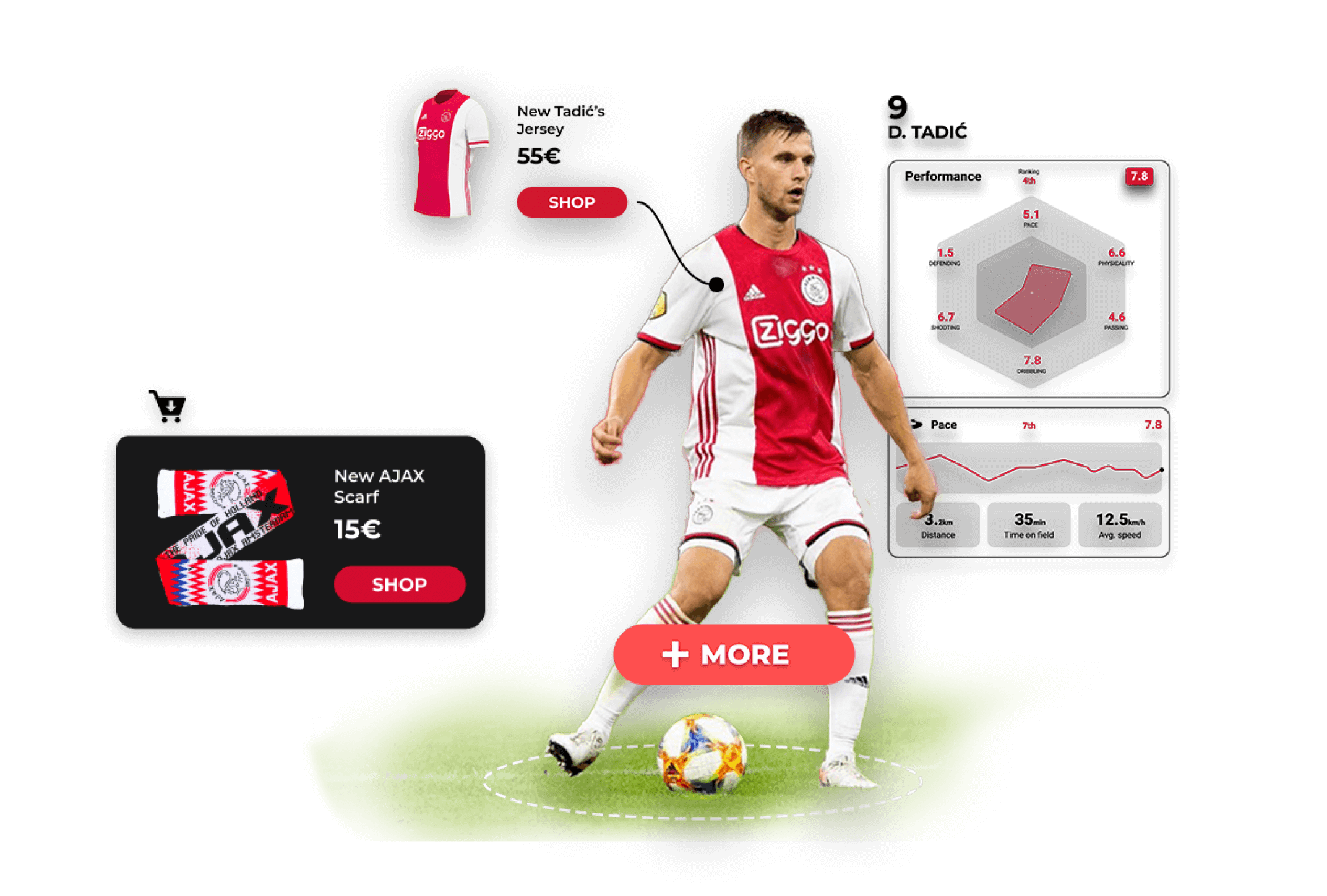 Through this interactive experience, teams and leagues can also highlight their partners by monetizing advertising spaces in the timeline, within the pitch or on the scoreboard, exactly like in a stadium. AR content drives effective commercial opportunities for teams and leagues to push sponsor presence and merchandising to remote fans.
Paving the way for the Future of Broadcast

You can also offer an interactive experience on broadcast by enriching the TV feed, allowing every fan to display multiple screens in front of them. Give your fans the opportunity to interact freely with the content and create their own TV show, by following other games at the same time, displaying replays or exclusive videos in AR directly in their living room at their convenience (read our post about the future of sports broadcasting to get more insights).
A multi-sport & multi-device experience leveraging the latest AR technologies

This experience is set to be multi-sport and available on different devices, from the latest smartglasses on the market (Magic Leap, Nreal…) to every mobile device (iOS and android). It will also be a brand-new way to attract the younger generations, who are used to video games, in which they are game masters and makers of their own story, and social media addicts.
If you want to know more about ARISE home and discuss it with our teams, do not hesitate to reach us by clicking the button below! You can also visit our dedicated page, ARISE, to discover more about our work.
Sources:
¹ Sports Innovation Lab, "The Fluid Fan is here"
² Deltatre, "Where the Money Is Going: The Future of Sports Entertainment"
³ Capgemini, "Emerging technologies in sports: Reimagining the fan experience"