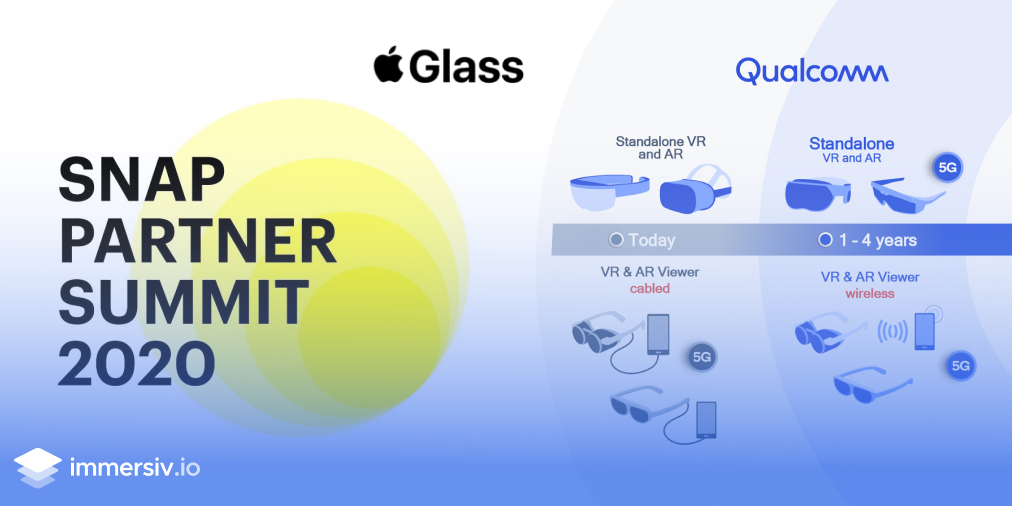 These last weeks were really exciting for the AR market, following the recent rumors about the future Apple glasses, the release of Unity Mars & the recent shift of Magic Leap… All this shows that interest for augmented reality  is undoubtedly growing, and that the market is just in its early stage.
As AR/XR developer, our team is following with huge interest this news, that's why we've decided to share some interesting insights with you regularly. Today, we'll focus on the Snap Partner Summit, the leak on Apple smartglasses and Qualcomm's global partnership with mobile & smartglasses manufacturers, among others. 
You can also read our What's new in AR/XR #2 et What's new in AR/XR #3 to get recent updates about the AR market!
Snap Partner Summit: how Snapchat is becoming a powerful platform for AR content creators
Snapchat is a trending social media platform to share pictures and videos with friends, and is one of the greatest examples of AR content consumption today. With the Snap Partner Summit, it seems that Snapchat wants to promote more AR content creation, by improving Lens Studio (the lenses' dev platform). This global resolution will be very interesting to help consumers' adoption of AR in the near future. Here is the most trending news:
Local Lenses: Last year, Snapchat has integrated landmarks to recognize monuments around the world & allow creators to share AR content around the Eiffel Tower or the Buckingham Palace. Now they've created Local Lenses, which will soon let users share persistent augmented reality content within neighborhoods. Local Lenses promises to create large-scale point clouds to recognize multiple buildings within an area, and mappings of entire city blocks.
Marker lense: Until now, marker lenses relied on a specific code or QR code (a marker has to be scanned by the user to initiate a specific AR content). Snapchat team has improved it and now you just have to scan a tagged thing, like a brand, or a specific object to activate a lense.
SnapML: Snapchat will allow developers to integrate their own Machine Learning models to the dev kit, which is really interesting to extend the range of real-world objects, body parts or landscapes that Snapchat camera will be able to identify.
Camera kit: Every developer will have the opportunity to rely on Snapchat's camera to create filters (using their machine learning & computer vision models). Another way to democratize AR content creation for people with no technical background, with the possibility to create content and use Snapchat's image, face and body recognition models to make it interactive.
Bitmoji integration: Snapchat is also increasing efforts to promote mini-games, allowing friends to play and create together. With Bitmoji exports, they will allow every app developer to integrate users' Bitmoji directly into their games, allowing every people to use their mini personalized avatar in different apps.
Discover more about the Snap Partner Summit.
Rumors around Apple AR glasses & Apple's research about AR content during televised sports events
A few weeks ago, a lot of rumors and information came out about the next Apple's AR smart-glasses, following the detailed video of an important leaker of Apple's announcements. Light glasses, made for consumers, integrating Apple's LiDAR… And a possible release in 2021! Nothing can be confirmed now, but no doubt that Apple, like Facebook and others are working hard on these smartglasses to revolutionize AR's consumption.
More recently, some other patents have drawn attention, especially for the sports industry. Apple is researching how to enhance sports events from home with viewers able to choose their camera angle, and single out elements they want more information on.
It will be a brand new way to watch basketball or football games, with the possibility to interact with objects on the screen, thanks to AR, Apple is believing that people should be able to learn more about, for example, the shoes or jersey of one player.
They've done some research to allow fans to interact with the screen through AR glasses/mobile to find information. It's a way to supplement the user's view, by adding personalized information on top of the TV feed. Another proof that Apple is working on AR glasses, and already imagine the future of watching TV and enjoy sports events with these new devices.
Qualcomm envisions the future of the AR market through a huge partnership program
During the AWE (Augmented World Expo 2020) Qualcomm has shared interesting news about the future of AR/VR headsets. The company has drawn its definition of XR viewers, which are design trends for AR/VR headsets: It lets the glasses manufacturers create lightweight glasses connected to the phone via an USB cable. This way, all the computation happens on the phone, which also provides connectivity and the battery, and thanks to that the XR headset can be lightweight and trendy.
They also announced the creation of a complete ecosystem and interesting partnerships between AR/VR manufacturers and telecommunications companies (among them nReal, Panasonic, Orange, Deutsche Telekom…) to highlights the next smartglasses on the market empowering XR viewers requirements & their compatibility with different smartphones. They've also shared their roadmap of the AR/VR market for the next 10 years, which is really interesting to see.