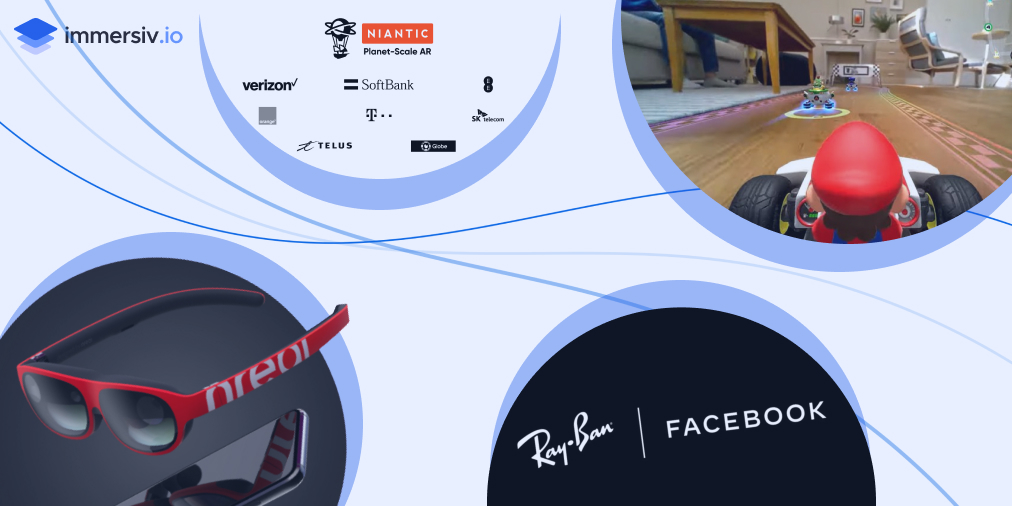 Following our recent article featuring the latest news on AR/XR market, some interesting information came out, with Facebook's CEO announcement around future Facebook's AR glasses for 2021, Nreal's recent fundraising or Niantic's new AR alliance to promote AR content worldwide… Check this article to see more.

AR startup Nreal secures $40 million in series B financing
At the beginning of September, the Chinese startup Nreal announced it's secured $40 million in funding (with participation by iQiyi, GP Capital, CCEIF Fund, GL Ventures…). It brings the company's total funding to $71 million, which is an important investment for an AR company. Even if it remains far from Magic Leap's total funding raised (around $2.6 billion), it shows that investors from all over the world show a huge interest in AR technologies and take it seriously. 
This good news is following the recent launch of the Nreal Light smartglasses on the Korean market, and soon worldwide for consumers (with a launch in the US this fall). Here at Immersiv io, we have already worked on AR projects using Nreal glasses (also, you can read the little review of the Nreal Light by our team), and we believe that Nreal could be a great opportunity for consumers to adopt AR on glasses.
Facebook plans to launch AR glasses in 2021
During the last Facebook Connect, Facebook's CEO announced that the company is planning to release its first pair of augmented reality glasses in 2021. While the company is already becoming a leader of the VR market with its Oculus headsets, it plans to focus now on the next trending market, which is AR, during the next months.
Zuckerberg confirmed that it has been working with fashion eyewear company EssilorLuxottica to create the device and suggested that it will be cosmetically appealing, arriving under the Ray-Ban brand name. As we have already seen with Nreal, AR companies now bet on light & discreet glasses to help consumers' adoptions.
Facebook expects that AR glasses will be used to overlay navigational and personally relevant data on top of user's live views of reality, or will allow users to see AR-generated holograms of people they're talking with.
Nintendo's famous game Mario Kart soon in your living room thanks to AR
Everyone has already played Mario Kart, but with the future Mario Kart Live: Home Circuit, people will be able to play Mario Kart has never before with the race displayed directly in their living room thanks to AR.
Using a Nintendo Switch or Nintendo Switch Lite to control the physical kart, users will be able to race together through their own custom courses (using physical gates to place at home for example).
This announcement is another great example of augmented reality's potential with new ways to entertain people, by offering them the possibility to personalize their own game, a game that will interact with their physical environment.
Niantic's AR Alliance to democratize AR content
One of the current leaders in AR content creation, Niantic, recently reveals plans to create a Planet-Scale AR Alliance to bring together mobile ecosystem leaders who work with 5G to promote the state of AR experiences on 5G forward. The first global members of the Niantic Planet-Scale AR Alliance include Deutsche Telekom, EE, Globe Telecom, Orange, SK Telecom, SoftBank Corp., TELUS and Verizon. 
This news is following last year's announcements, as Niantic is already working on a planet-scale AR platform to provide AR content across mobile devices and smartglasses to consumers globally.
Working with telecom partners will give the platform opportunities to combine 5G's innovations (like ultra-low latency, enhanced mobile broadband, edge computing…) with AR innovations to create impressive AR experiences, especially including the persistence of AR content in the real-world that can be experienced by others dynamically.
Vuzix smart glasses for consumers planned for 2021
Many tech companies on the market are working on the launch of AR smart glasses for consumers, and Vuzix is one of them. The company already develop smart optics for industries and has announced a forthcoming device lineup set for unveiling in 2021.
On the same model that the Google glasses, the device will contain a pair of micro LED projectors embedded in an eyeglass frame's end pieces, each flanking thin, see-through binocular waveguides that double as common lenses. With these glasses, users will be able to display graphical information from an output source in front of their eyes.