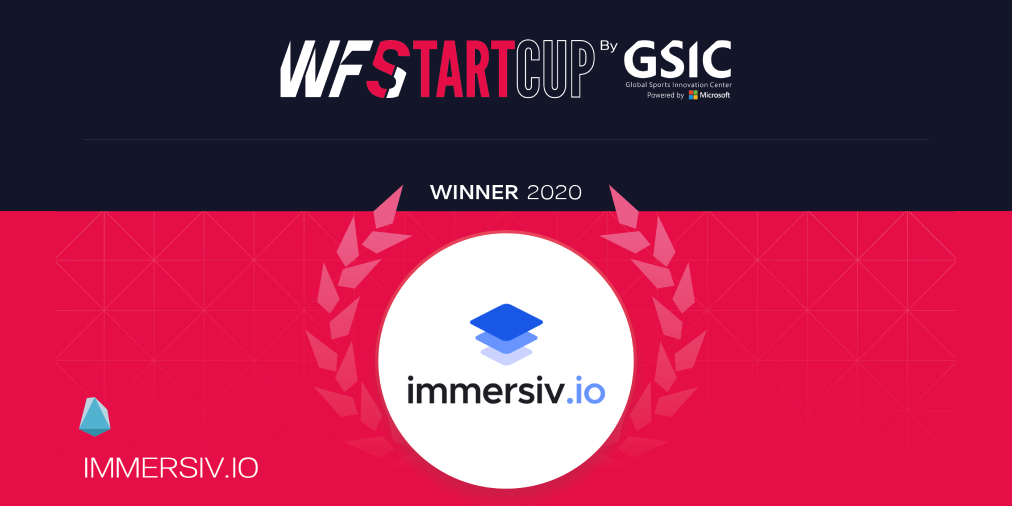 These last weeks were really intense at Immersiv.io. We've gone through SAP.iO Foundry Munich's Fall 2020 special cohort in sports and fan experience and presented our solution ARISE home during the Demo Day last week. We also took part in Virtuality Experience 2020 with our partner Orange to present some interesting use-cases around the future of TV with AR glasses. And last but not least, we won the WFS Live StartCup competition powered by GSIC.
Rewarded by WFS Live for ARISE: the future of watching sports with augmented reality

WFS Live was one of the biggest virtual events around innovation in sports this year, gathering many sports brands, clubs, leagues and football decision-makers from all over the world. As part of the event, the World Football Summit launch a startup competition, to let innovative companies present their solutions to a panel of sports leaders. Immersiv.io was previously selected among the top 8 finalists this summer, and we were finally delighted to hear a few weeks ago that we were the winner of the StartCup competition.

Following our last reward from Reimagine Football this summer, we truly believe that our solution ARISE will drive many opportunities for sports brands in the future. It will be the ultimate way to offer brand-new interactive experiences to the fans, powering augmented reality content and real-time statistics.
Our CEO, Emmanuelle Roger, was invited to speak at WFS Live last week to present what we're doing at Immersiv.io, our product, and share insights about the future of the fan experience.
Immersiv.io new member of the Global Sports Innovation Center powered by Microsoft

This interview was lead by Jorge Gomez, Partners Solutions Program Manager of the Global Sports Innovation Center, the main partner of the StartCup competition. As the winner of this one, we are also very glad to join GSIC, an entity powered by Microsoft and already recognized as an organization bringing innovation to sports entities and driving interesting opportunities and connections between operators to innovate in the sports area. We are looking forward to connecting with their team!