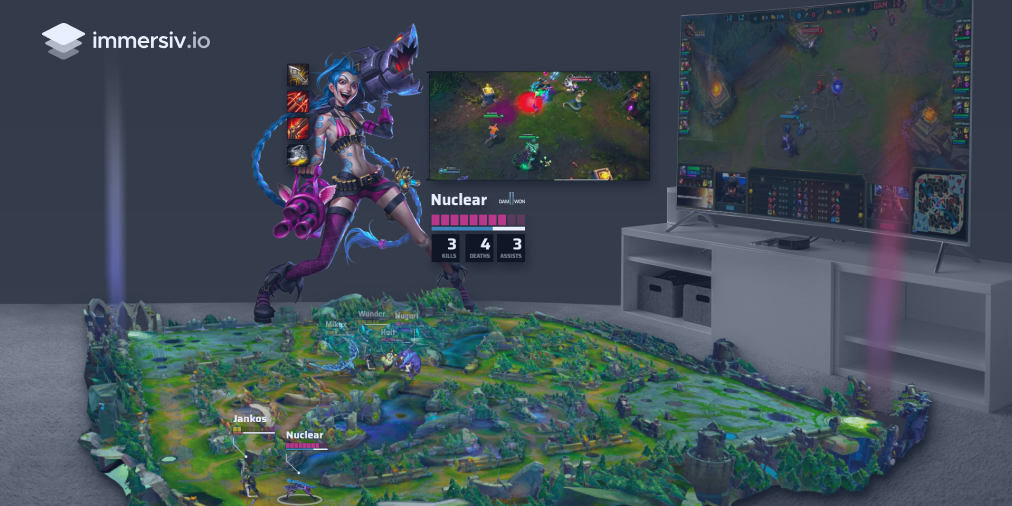 eSports competitions are becoming huge entertainment shows, using the example of the sports industry to reproduce the atmosphere & passion created during sports events. AR/XR could be the next wave for eSports and gaming events to drive new audiences, address a mainstream public & rely on technological innovation to let people better enjoy and understand what's happening during the game (exactly like AR/XR in Sports).
eSports competitions are not always easy to follow, with multiple players on the same map, a large amount of information available on each player's screens, very fast playing phases… It's complex for amateurs to catch every action, and it is way harder for rookies. eSports is quite new, and even if 2020 signs the global shift of sports brands to eSports following the stoppage of sports competitions, it remains reserved for hardcore players & fans.
Turning eSports tournaments into big shows, like NBA's playoffs or the World Football Cup, will help the adoption by a mainstream audience. Moreover, new technologies will help create immersive experiences and improve access to information during competitions. Riot Games has already understood that, and the League of Legends World Championship final every year is an opportunity to fill entire stadiums and offer fans a unique show.
Reimagining eSports arenas with AR: League of Legends example
For the 2020 League of Legends World Championship Final, Riot Games once again offered a state-of-the-art extended reality (XR) experience for fans attending the event physically in Shanghai, and also for those following the final on the broadcast. 
In Shanghai, Chinese company Rokid provided AR glasses for limited seating during the event, marking the first time for fans to experience AR technology when watching the game. Rokid Vision, the AR glasses offered to the audience, can summon an in-game dragon to fly for a while around the venue. The dragon then landed in front of the audience, creating an augmented space for the game with personalized features supported by voice and visual recognition, including highlights of the game, close-ups of favorite players, teams with logos…
For several years now, Lol's Elder Dragon has been brought to life virtually, since then on broadcast, flying over the Bejing's Bird's Nest stadium, and now live for fans using AR glasses in arenas. The latest AR technologies will permit the adding of AR graphics and virtual characters animated directly on the arena stage, allowing spectators to feel more immersed and get new ways to enjoy the event.
Exactly like in sports events, it will also unlock new ways to get access to information and stats during games, with access to lineups, player's information and scoring… Which will drive new opportunities around eSport betting too.
eSports at home with AR: More immersion & access to information

For now, when watching eSports competitions at home, fans can get access to information and graphics with AR on broadcast, which improves overall view and comprehension of what's happening. For example, during AIC grand Finals, fans could get game stats, a 3D map with player's and animated player's avatars with match data.

Those AR graphics were added to the TV feed, but in the future, we can also imagine fans using their smartphones or AR glasses to get on-demand information and stats and extend their TV screen. Fans could put multiple screens around their TV, switch from different views, or display a 3D map of the game directly in their living room with player's tracking.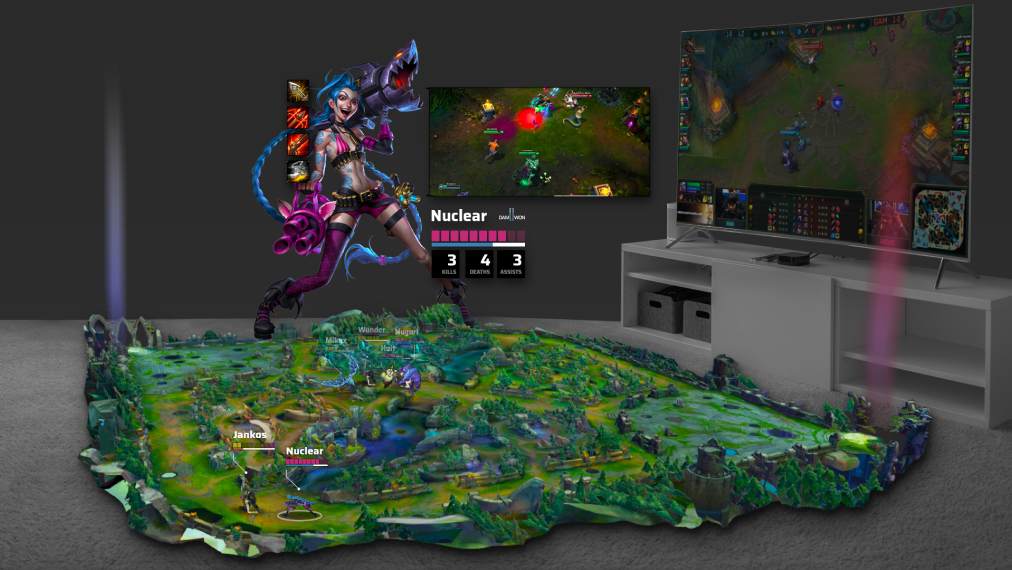 © Riot Games, League of Legends
AR will drive new ways to display graphics on your own area, and get personalized information, depending on your interests during the event. That's something we already experiment with during sports events, why not in eSports?
Google has already presented the future of watching eSports, when teasing ARcore in 2017, in partnership with Riot Games. The preview of League of Legends in AR shows off the potential of what's possible on smartphones. It showcased a user watching a League of Legends match while an AR map appeared on its table with champions positioned on top. You are basically able to relive a LoL match like never before by tracking your favorite champions, get access to stats and simultaneously watching the video replay of a match.