Gen Z & Sports Media Consumption: Why Sports Entities Need to Innovate
16/04/2021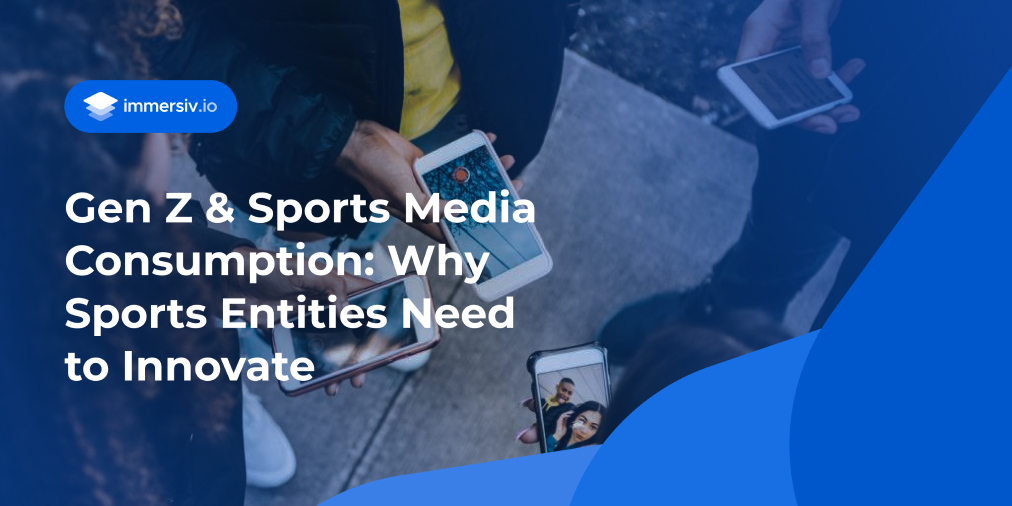 Two recent articles published by Morning Consult about sports media consumption by Gen Z are meaningful and sound the alert for sports brands: the youngers are not watching sports anymore, and fewer fans means lower viewership. Gen Z is not like these previous generations of devoted fans. It's a huge issue for sports brands that are relying on the broadcast to create income.  Sports media will have to completely adapt their services to satisfy and engage this ultra-connected, hard-to-impress, and increasingly activist generation of fans.

Gen Z is the demographic cohort succeedings the Millenials (Gen Y) and gathering people born between 1997 & 2010. This generation is a mystery for brands, known for being very difficult to market & understand. Raised with smartphones & social media, Gen Z is, at some point very mature with political viewpoints and strong values, but also very pessimistic & enlightened about the world's current issues (environment, discriminations, equality…). Most of all, it seems that they were "born bored". They want excitement within few seconds, looking for snack content and switching easily from multiple channels to find the right content that will truly entertain them.
As Gen Z is not watching sport, sports brands are about to lose many fans.
The millennial generation's coincided with massive growth in the world's sports industry. With more access to a wider range of competitions, people born between 1981 and 1996 developed an insatiable appetite for live sports. New research, however, indicates the next wave, Gen Z,  is much less enthusiastic about sports.
Numbers speak for themselves: Only half (47%) of Gen Zers identify themselves as sports fans. To compare, 63% of all 18+ considered themselves as sports fans, and 69% of millennials. It's a huge loss of attention for sports brands, and that's why they have to reinvent themselves quickly to regain younger's attention.
Sports entities need to make their games more engaging, using eSports codes, fostering gamification, daily fantasy, interactive experiences, and sports betting. Gen Z doesn't want to just sit back and watch sports during hours. Gen Z's relative disinterest in sports is reflected in its viewing habits: nearly 40% of Gen Z's never watch sports! While 50% of millennials, said they watch live sports at least once a week, only 1 in 4 individuals ages 13-23 said the same.
Leaders said athletes play an outsize role in generating interest in teams and leagues among younger fans. Teens are following athletes first, then they're following clubs (especially NBA & football players who are very famous). They want a one-to-one connection with the athletes. That's also why they love eSports. eSports athletes are streaming for hours outside of the competitions, and when they're streaming, they're exposing their personality & interacting with their audience. 
Gen Zers are not watching traditional sports media because they're craving for new types of content on new digital channels, with more interactions & less static media. It's a statement we've already made in a previous article explaining why sports leagues & clubs should reimagine the fan experience.
The need to renew sports media content: Bet on innovation, personalization & immersion

In the years to come, adapting live sports & content to this new generation will be essential for traditional sports. The problem is that live viewership is the lifeblood of the sports industry. Since 2017, media rights have been the largest revenue stream for the sports industry. The majority of that business is tied to broadcasts of live games. BUT Gen Zers are less likely than previous generations to watch live sports regularly and even more likely to never watch live sports. With so many sports & entertainment options across so many screens, fans of all ages are watching fewer games and quitting them faster. Sports media are now fighting short attention spans.

Among Gen Z sports fans, only 25% of respondents said watching live competition is an important part of being a fan. 52% said watching live sports is not too important or not important at all. As we can see, there is an important break between Gen Z & other sports fans.
Sports properties and their media partners are already trying to adapt live sports to younger audiences by offering games via streaming services, creating interactive second-screen elements like predictive content, or by introducing new broadcast technology and advanced statistics (see more about the future of sports broadcasting). Also, incorporating sports wagering into the viewing experience will probably help further engage adult viewers.
Decision-makers in sports leagues and teams understand, however, that while the current media rights model is a cash cow, it is also the biggest obstacle to reimagining the live viewing experience to engage the next generation of fans.
In addition to watching fewer live games, Gen Z sports fans are also consuming non-live sports media less frequently than fans from other generations.
38% of Gen Z fans indicated that they watch sports highlights at least once a week. But, only 22% are reading articles, 20% are watching TV studio shows, 13% are listening to talks radio. That's less than 1 on 4 fans. Numbers on sports media consumption are roughly declining between Gen Z and all sports fans, especially when compared to millennials.
The survey also offers a look at which social media platforms Gen Zers turn to for sports content. YouTube is Gen Z fans' preferred platform, with 49% saying they use it several times per week, followed by Instagram (44%), Snapchat (37%), and TikTok (31%).
Highlights & replays are an increasingly important touchpoint to connect with Gen Z, as they distill hours-long games down to the most exciting moments and are ideal for sharing on social media. Gen Z is craving for short-form content as much as innovative digital content throughout the game (immersive ways of watching sports with AR/VR Experiences, focus on stats & predictions, decision-making during games…). As already said, Gen Zers are also more focused on their favorite players rather than on a specific team (even if the team remains the most important). They want access to more insights about players' individual performance.
Sports entities and media should definitely focus on creating brand-new experiences if they want to keep fans' attention. We are definitely entering the "Sportainment" era, with sports events becoming huge shows, borrowing from eSports codes, and offering much more interactions to fans. At Immersiv.io, we've already made this statement, and that's why we've created ARISE, the ultimate fan experience using Augmented Reality. ARISE is letting every fan create his own game with interactive & personalized content immersing him in a new sports show.