What's new in AR/XR? From Apple's iPhone 12 embedding LiDAR to HoloLens 2 expanded sales
13/11/2020
What's new in AR/XR? From Apple's iPhone 12 embedding LiDAR to HoloLens 2 expanded sales
13/11/2020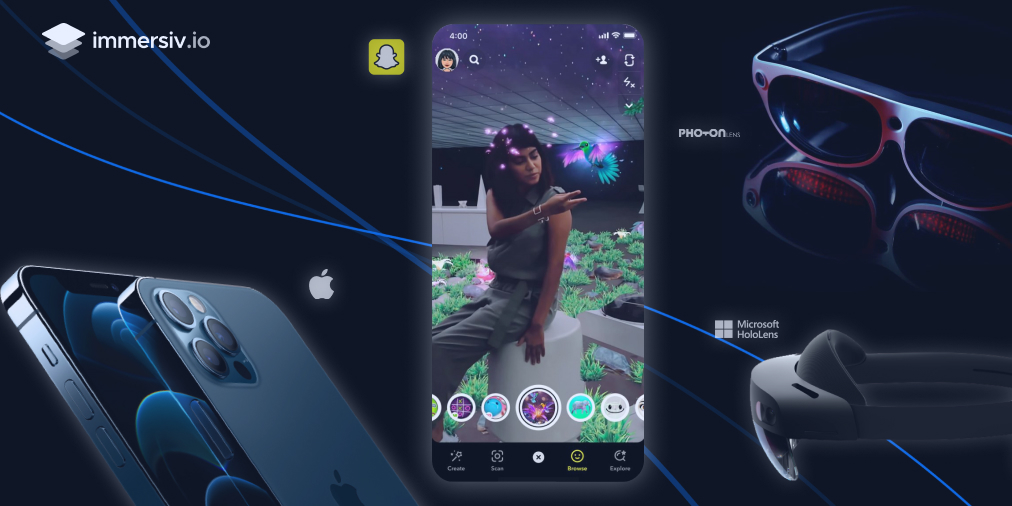 Another great news from the AR planet these last weeks, featuring some familiar brands such as Apple, Microsoft or Snapchat. Augmented Reality is obviously becoming a reality with the acceleration of use-cases and major hardware updates. See more by reading this new article, after our #2nd recap what's new in AR/XR and #3rd recap what's new in AR/XR.

The launch of Apple iPhone 12 with LiDAR embedded
During Apple's Special Event on October 13, Apple introduced its latest lineup of smartphones, including the iPhone 12 Pro and iPhone 12 Pro Max, both equipped with a LiDAR (Light Detection & Ranging) scanner which will increase AR capabilities on smartphones. The LiDAR scanner was previously ad to the iPad Pro earlier this year. 
LiDAR is a so-called 'time of flight' depth-sensor which measures how long it takes for light to bounce off of objects in the scene and return to the sensor. With precise timing, the information is used to judge the depth of each point. With depth information, augmented reality experiences will be more accurate to the real world and faster to display.
Apple says, thanks to the LiDAR scanner, iPhone 12 Pro will be capable of "instant AR", as LiDAR captures depth information in the equivalent of a 'single photo', without any phone movement or the need to compare images across time. This impressive technology will probably be found in Apple's upcoming AR glasses, and it shows that Apple is clearly one step closer to unveiling a powerful device with impressive capacities.
Snapchat is improving Lens Studio with LiDAR & full body tracking
Directly after Apple's conference, Snap Inc. has released an updated version of its creator tool, Lens Studio, allowing content creators to rely on the power of LiDAR when creating Snap Lenses. Update 3.2 uses the Snapchat camera to generate a mesh scale capable of identifying surfaces, objects, and the geometry of your environment, resulting in more realistic interactions between digital content and the physical world.
In an official release by Snap, Eitan Pilipsky (Snap's SVP of Camera Platform) said: "The addition of the LiDAR Scanner to iPhone 12 Pro models enables a new level of creativity for augmented reality,".
In addition, a few weeks later, Snap Inc. introduced a new line of Snapchat Lenses that combine 3D motion capture and machine learning models to create over 10 augmented reality lenses that respond to user's movements, relying on its full-body tracking technology. 
Snapchat's AR offerings have increased significantly over the last few years and currently, over "180 million Snapchatters engage with AR daily — nearly 30 times every day."
Unity will soon support OpenXR platform
Unity recently confirmed its plans to support OpenXR platforms by the end of 2020 with a focus on "providing the best developer experience on Unity supported platforms." Originally, OpenXR is a royalty-free standard designed to make cross-platform VR and AR app development easier, supporting multiple platforms released by the Khronos Group and backed by industry leaders (such as Epic Games, Microsoft, Oculus…).
Unity's promise of OpenXR support means that developers will be able to bring previously created augmented reality content to whatever platforms prove popular and create new AR/VR apps with Unity that work across any XR device. However, implementation won't necessarily be exactly the same from platform to platform, and Unity is warning that due to the "unbounded combinations" of possible hardware and software, it can't guarantee optimal performance for every platform.
Microsoft HoloLens 2 sales expanding
Microsofts HoloLens 2 MR headset was launched at the end of 2019 and was initially available to selected partners. Over the course of 2020 the headset has become easier to buy as in June the company finally opened up direct orders, allowing anyone to buy their own HoloLens 2.
Microsoft recently announced the expansion of its sales to 15 new countries: Italy, Netherlands, Switzerland, Spain, Austria, Sweden, Finland, Norway, Denmark, Belgium, Portugal, Poland, Singapore, Hong Kong, and Taiwan. In addition, Microsoft announced that the 'HoloLens 2 Development Edition package (including Azure credits, Unity pro license among others…) is now available in the U.S and soon in 10 other countries. 
Just as a reminder, the HoloLens 2 is one of the most elaborates XR headset available on the market these days and is targeting the B2B market and major industries, such as healthcare & manufacturing, less frequently sports & entertainment industries (see our latest project around the future of sports broadcast with France Televisions). 
British startup PhotonLens & Chinese manufacturer Shadow Creator partnered to launch light AR glasses
Shadow Creator, a Shanghai-based AR/VR headset manufacturer, has partnered with British AR startup PhotonLens to create a new consumer-focused AR headset for gaming and fitness. The device looks like a Nintendo Switch computes unit housing a Snapdragon XR2 processor, Qualcomm's latest AR/VR chipset which is quickly becoming the standard for standalone devices.
Because the rendering hardware isn't directly within the glasses but placed into a Switch-style compute unit with display, these glasses are said to weigh only 85 grams, which is similar to Nreal's Light AR glasses. The company also said that the glasses include a 50-degree field of view (FOV), three camera sensors, SLAM headset tracking, and displays boasting "2.07 million pixels per eye".
Once again, it shows that the Chinese market is very proactive in creating AR hardware, whereas the European and American ones seem to bet less on AR glasses for now (even if it will probably change within 2-3 years with the launch of AR glasses by Apple, Google or Facebook…).