Gamification of Sports Events & Fan Experience: the New Era of Sportainment
12/05/2021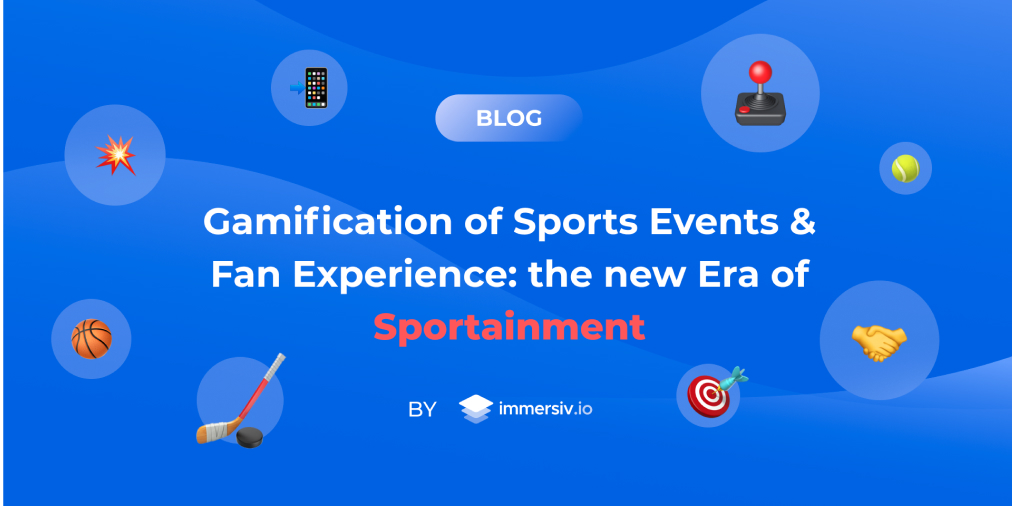 The future of sporting events will be interactive and gamified. Undoubtedly, traditional sports will have to reinvent themselves and rely on innovation to create new ways to watch sports. Until now, the problem is that live viewership is the lifeblood of the sports industry. Since 2017, media rights have been the largest revenue stream for the sports industry and the business is primarily focused on live game broadcasts. But today, with so many sports & entertainment options across so many screens, fans of all ages are watching fewer games and quitting them faster.

Sports media are now fighting short attention spans. This statement is even more impactful regarding the younger generations. Gen Z doesn't want to just sit back and watch sports during hours. Nearly 40% of Gen Z's never watch sports, and only 47% consider themselves as sports fans.
It's time to reinvent sports media consumption, reimagining the broadcast experience as much as the in-stadium experience. Sports brands will have to accelerate their digital transformation in the months to come if they want to stay attractive.
Today, fans are craving interactive content, shorter competition formats, and new types of engagement during sports competitions. They also want to be part of the game, they're becoming active, decision-markers, or even athletes. Welcome to the era of Sportainment, with more gamification than ever before and more accessible sports competitions, mixing the best of Sports & Entertainment. 
Discover some interesting examples of innovation around sports events, with new types of formats, competitions inspired by eSports codes, augmented reality activations up to fans-controlled competitions.
UTS Live: simplify and reinvent tennis competitions formats
UTS Live is an interesting example of innovation around Tennis competitions. It aims at reinventing the competition formats, making the games shorter and simpler, more dynamic and enhanced with new rules. As a traditional sport, Tennis rules and duration are not adapted to younger audiences and its public is aging.
UTS Live is a private competition, with a points system, shorter rounds, and innovative rules with a card system that players can activate to create new strategies throughout the game. The competition codes are also inspired by eSports, with the possibility to listen to the discussion between coaches and players
This type of competition will offer engaging content to fans, and new ways to consume sports competitions with new rules and enhancements, which is quite interesting for younger fans.
FC Bayern at the Allianz Arena: empower the fans in-stadium with augmented reality
Immersiv.io has worked with Deutsche Telekom and its partner the FC Bayern to create a brand-new engaging experience for fans using augmented reality content.

This social AR experience was showcased at the entrance of the Allianz Arena, presenting an innovative way to entertain fans before the match. Fans could use their mobile phone's camera in front of the stadium to display giant animated avatars of FC Bayern players coming into life in front of them. Every fan could take pictures with this special guard of honor composed with Neuer, Pavard, Muller & Kimmich encouraging & clapping the users. Fans can also share pictures & videos on social media.
Formula E: offering special features to drivers and fans
Formula E is known for being one of the most innovative competitions. Some cool interactive features are bringing excitement throughout the race. For example, FANBOOST gives fans the opportunity to vote for their favorite driver and award them a five-second extra boost of power during the race, which can directly influence the outcome of the race.
Every driver can also pick up an extra hit of power with the ATTACK MODE. To fire up Attack Mode, drivers need to arm their car, drive off the racing line, and through the Activation Zone. Drivers that secure the extra speed, can use it for a few laps when they want to race harder, giving them the edge to keep ahead of the competition.
Fan Controlled Football (FCF): The League that is REALLY controlled by the fans
FCF is pro football re-imagined for the modern digital world. This very innovative US football league is completely controlled by the fans. Before the competitions, the fans can choose the players of their team (through a draft with a voting system), their team colors, logo, even the coaches… They also compete to win some advantages and boosters for their squads.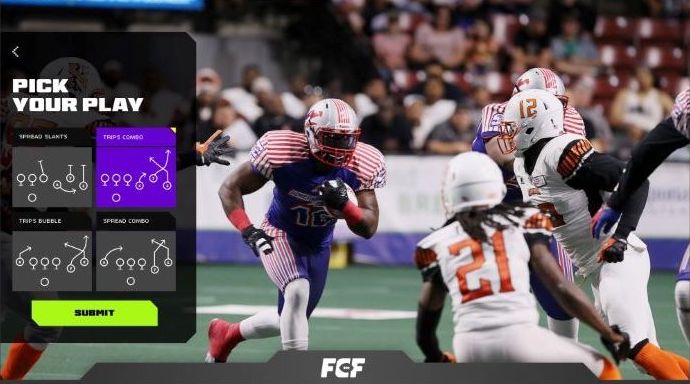 During the game, the fans can call the plays and have a major influence on the course of the action. Every game is live, streaming directly on Twitch. This league is the greatest example of gamification, offering fans the opportunity to be at the center of the game, interacting together to help their squad.
ARISE: allow fans to take control of the viewing experience thanks to augmented reality
With ARISE, a white-label solution created by Immersiv.io for clubs and leagues, fans have access to a new set of content to enhance their viewing experience. They can display various statistics directly on the pitch, and follow the performance of their favorite player with specific data to better understand the game. ARISE is taking the fan experience to another level, as every fan just has to put its smartphone camera on the pitch to get the latest stats of the competitions (player's heatmap or speed, passes possibilities, successful dribbles…).
As we can see, creating interactive and personalized experiences will be a must-see in the months and years to come for sports stakeholders. Immersive technologies such as AR/VR will completely change the way we consume digital content, and the sports industry will be no exception. Check out more examples of Augmented Reality Experience in sports.